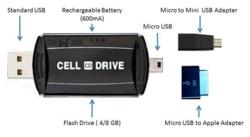 The Cell Drive aims to be the Swiss army knife of mobile USB gadgets, and it acquits itself well in that role overall --Beatweek Magazine
Southlake, Texas (PRWEB) May 29, 2012
The patented Cell Drive has been redesigned to now offer the micro-USB device connector as the primary data transfer and charge connection between the Cell Drive and mobile device. Additionally the Cell Drive has increased the battery capacity while keeping the same exceptional portable size . The Cell Drive now provides both micro -to-mini USB and micro USB-to-iPhone/iPod data transfer and charge adapters to make the Cell Drive the most flexible product on the market to satisfy the needs of BlackBerry, Android, HTC, iPhone/iPod and all other latest generation of mobile phones.
The redesigned Cell Drive, compliments its sister Cellink family of devices to provide the user options to satisfy the charging and data storage needs of practically all cell/smart phone users as well as GPS, MP3, Bluetooth and other mobile devices.
Sam Duyka, owner of SLD Marketing Group and Cell Drive, states that with the hundreds of battery charges on the market, the Cell Drive still remains popular due to the added storage and data link capability all being smartly featured in a small pocket size device for extreme portability.