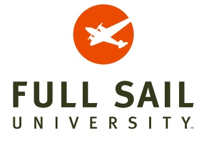 Full Sail University rose 31 places up our list, a bigger jump than any other college or university on the Spring 2012 Top 100 Social Media Colleges rankings.
WINTER PARK, FL (PRWEB) May 14, 2012
StudentAdvisor has named Full Sail University #19 of the "Top 100 Social Media Colleges" in the United States. Full Sail, previously ranked at #50, jumped thirty-one positions in StudentAdvisor's rankings as the university was recognized for adding over 75,000 community members on Facebook and Twitter since September 2011.
"The mathematical algorithm that creates the Top 100 rankings calculates each school's social media footprint and weighs each school the same regardless of their respective student enrollment," said Dean Tsouvalas, Editor-in-Chief of StudentAdvisor.com. "Full Sail University rose 31 places up our list, a bigger jump than any other college or university on the Spring 2012 Top 100 Social Media Colleges rankings."
Tsouvalas continued, "Over the past year, Full Sail University has developed several innovative uses of social media including partnering with the Orlando Magic to create once-in-a-lifetime opportunities for current students. From connecting with alumni during the 2012 Academy Awards ceremony, to growing their Facebook and Twitter accounts by more than 75,000 members; their social media community has exploded. It was the marriage of their one-of-a-kind activities' social media support with their impressive community expansion that helped propel Full Sail University into the top 20% of the Top 100 rankings."
Known for its cutting-edge approach to technology and media, Full Sail University utilizes various social media platforms to both inform and engage its community comprised of students, faculty, industry professionals and those seeking to learn more about the entertainment and media institution.
"Social media has become a preferred means of communication and an important tool for students to learn about the university in the decision making process and throughout their education," said Melissa Albers, Director of Social Media at Full Sail University. "We've focused on building our social communities into a place where students, alumni and fans alike can be inspired, learn and network. Our community is very important to us, and we believe that they are strongly responsible for making this happen."
The Top 100 Social Media Colleges rankings compares more than 4,000 federally recognized colleges in the United States in terms of their mastery of public social media methods, tools, and websites. Each school is scientifically evaluated on how effectively they engage with their audiences using popular social networks such as Facebook, Twitter, and YouTube.
About Full Sail University:
Full Sail University is an award-winning educational leader for those pursuing careers in the entertainment and media industry. Founded in 1979, Full Sail has been recognized as one of the Top Five Game Degree Programs by Electronic Gaming Monthly, one of the Best Music Programs by Rolling Stone Magazine, and one of the Best Film Programs by UNleashed Magazine. In 2011, Full Sail received the "21st Century Best Practices in Distance Learning Award" from the United States Distance Learning Association, was named the "School/College of the Year" by the Florida Association of Postsecondary Schools and Colleges, and was recognized as one of the Top 100 Social Media Colleges by Studentadvisor.com.
Full Sail offers on-campus and online Master's, Bachelor's, and Associate's degree programs in areas related to animation, art, business, education, graphic design, film, marketing, web development, music, recording arts, sports, and video games. Full Sail graduate credits include work on OSCAR®, Emmy®, GRAMMY®, ADDY®, MTV Video Music Award, and Spike Video Game Award nominated and winning projects.
http://www.fullsail.edu
http://www.twitter.com/fullsail
http://www.facebook.com/fullsailuniversity
http://www.youtube.com/fullsailuniversity