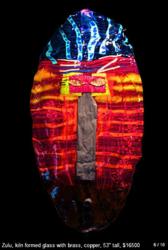 Santa Fe, NM (PRWEB) May 13, 2012
Pippin Contemporary Gallery is holding an art show for artist Suzanne Wallace Mears called 'Tribal Exploration' from Friday, May 25 to Wednesday, May 30. This is a showcase art show featuring Mears' Kiln-formed glass abstractions include masks, totems, thick, hand-chiseled bowls, and free fall vessels. The artistry of Mears' glass abstract pieces emanates light, energy, color and they call you into a realm of imagination. The gallery invites locals and Santa Fe visitors alike to come enjoy the inspired art work of this fine artist. The art show 'Tribal Exploration' is a SantaFe.com event calendar "Featured Event".
The show's schedule is as follows:

Event Night, 5 to 8 p.m., Friday, May 25
8 a.m. to 5 p.m., Saturday, May 26
8 a.m. to 5 p.m., Sunday, May 27
8 a.m. to 5 p.m., Monday, May 28
8 a.m. to 5 p.m., Tuesday, May 29
8 a.m. to 5 p.m., Wednesday, May 30
About Pippin Contemporary Gallery:
Pippin Contemporary is about energetic vivid color and tactile expressions of abstract art which has the power to release a spontaneous reaction in the viewer. The passion our artists feel about their artwork and how that passion translates creates an element of surprise.
Aleta Pippin founded Pippin Contemporary in 2011, focusing on abstract art which offers the viewer a venue through which to access their emotions and transport themselves to their interior worlds.
About SantaFe.com
SantaFe.com provides locals and visitors to Santa Fe alike the most current interactive platform for events, music, arts, business, dining and lifestyle. SantaFe.com is a division of Hutton Broadcasting, located at 2502 C. Camino Entrada, Santa Fe, NM 87507
Contact Information:
Scott Hutton
SantaFe.com / Hutton Broadcasting
http://www.santafe.com
(505) 471-1067 (Media inquiries only, please)