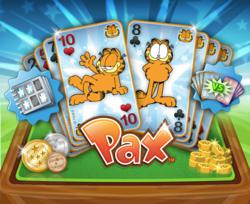 Los Angeles, CA (PRWEB) May 14, 2012
Garfield fans will now be able to play a Facebook cards game based on the famous and beloved cat, it was announced today. Dassa Games has partnered with Virtual Greats, the world's leading virtual goods and sales distribution agency, to create a connected experience for Garfield fans around the world.
Dassa games is developing "Stars Pax" - a collectible cards game dedicated to fans and fan communities - so enthusiasts can play, share and support their favorite sports and entertainment stars in an interactive social experience.
In Garfield "Stars Pax," Garfield fans pick their pack of collectible cards that can later be personalized and upgraded to play against virtual characters, friends and fans in competitive prize tournaments. "Stars Pax" will also feature many other Garfield characters, including Odie, Jon, Arlene, Nermal and Pooky. Additional collectible cards will feature Garfield in numerous costumes, seasons and situations.
The cards game is a simple and easy to learn match between two players where high value cards win. It's the classic "War" card game with a few challenging twists and tricks of matching and grouping cards.
"Stars Pax" is not only about competition, but also about cooperation among fans and friends excited about promoting their favorite stars to the top of the game's rating charts while boosting the value and power of their own cards deck.
In addition to Garfield, Dassa Games plans to expand its partnership with Virtual Greats to create virtual goods for a range of recognizable brands.
About Virtual Greats:
Virtual Greats connects celebrities, artists, intellectual property owners and brands with a new generation of fans and consumers, unlocking value through digital representations of real world content in online communities. The company is the world's leading virtual goods and sales distribution agency and clients include Snoop Dogg, Paris Hilton, Domo, Garfield, Warner Bros. Television, Universal Pictures, the NBA, Skechers, Rocawear, as well as many others. With offices in Los Angeles and San Francisco, Virtual Greats helps partners develop new revenues from the complex relationship between content, technology and virtual goods while reaching out and connecting with young audiences in social networks, casual gaming, virtual worlds and mobile applications. For more information, visit http://www.virtualgreats.com.
For additional information about Virtual Greats, please contact:
Tara de Souza | tara(at)virtualgreats(dot)com
About Dassa Games:
Dassa creates fun and engaging social online games that mix traditional card games with popular collectible cards. Through Dassa games, gamers and fans who share interests come together and are given the opportunity to create online communities with meaningful social interaction. Dassa provides commercial brands the opportunity to leverage genuine, dedicated, online engagement to strengthen brand awareness and create new fan-brand based interactions. Founded in 2009 and located in Israel, Dassa Games is a privately held company.
For further information on Dassa Games, please email: info(at)dassagames(dot)com.