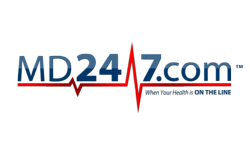 Find MD247 online!
Tampa Florida (PRWEB) May 14, 2012
Threatened future Medicare limits have aging Baby Boomers scrambling for supplemental healthcare options. MD247 offers the ready, willing and able patient population a quality of life enhancing option with the MD247 telemedicine program.
According to a recent review, the global telemedicine industry is poised for explosive growth over the next decade. The reasoning behind the growth is two-fold, in that the United States has an aging population "boom" which is hitting milestone years for failing health and the government simply can't pay for everything. Unable to invent a "money tree," public healthcare programs like Medicare are finding that they reduce the number of hospital visits and do everything that they can to prevent return admissions to the hospital for the same medical problem. In an effort to deal with this this global health epidemic, MD247 was created to first address the medical conditions in Florida and then roll through the entire nation.
The field of telemedicine sounds sterile when considering its applications for hospital monitoring, but there are methods with which to bring the technologies into use for the simple every day moments like an earache. The shift from the hospital having the power, to the patient having the power is a shift toward a system called "telemedicine." A patient being able to talk to a doctor when he is needed saves both man hours and dollars. This all sounds fantastic until the thought of fees comes up.
MD247 Founder Thomas Meehan explains that "MD247 telemedicine is capable of enhancing countless lives."
Largo Florida based MD247.COM (MD247; MD/247; MD 247; M.D.247; MD-247) provides an affordable telemedicine supplement to existing healthcare services. MD247.COM telemedicine program members have unlimited telephone access to a nationwide medical support team, all with just a single phone call to the MD247.COM telemedicine Talk to a Doctor/Talk to a Nurse Hotline. MD247.COM has a virtual platoon of registered nurses; board certified physicians and a support staff available to members for all non-emergency situations. More information about MD247.COM is available online at http://www.md247.com.