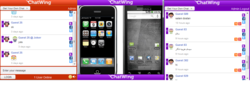 Seattle, WA (PRWEB) May 14, 2012
Gameloft, one of the hottest game development companies in the world, has influenced a lot of fans, based on Internet statistics. Many fans have actually bought Gameloft games, especially Iphone and Android owners. Now, these Gameloft fans are discussing the company's games in a special and free chat widget known as Chatwing. This widget has recently branched out in gaming communities and it is being recognized by a lot of players in chatrooms, especially those who own gaming blogs.
Chatwing's versatility definitely exceeds 100%. It can be used for any online community imaginable, and it is compatible to most blogs and websites. Ever since Chatwing's second version was released, it has generated a lot of sign-ups. This signifies that people are already seeing its sheer potential. In Chatwing's free chat box, Gameloft fans usually discuss about tips, hints, and gaming strategies. Some of them also discuss online co-op play which allows multiplayer gaming.
One of Chatwing's main goals is to provide a great avenue for communication. This website chat tool has remained true to its goal by releasing a Facebook integration feature. Through this, Chatwing users can now log in with their Facebook accounts. Users can now exchange profile information and expand their social networks. "Applications with Facebook in them are guaranteed success in the long run. This is why we believe that Gameloft fans can benefit a lot from Chatwing. They can chat and exchange tips, and there is no need for complicated commands. It's basically about instant messaging in a new preface," Says Michael Diamond, one of Chatwing's developers and also a game buyer in Gameloft.
Chatwing's developers have also made sure that the widget's installation process runs smooth. Installation can be delivered in three key steps: registration, customization, and embedding. All of these steps take only few seconds, with customization being the longest. The shout box will go live right away. A lot of people have also been visiting Chatwing's Facebook page for updates.
About Chatwing.com
Chatwing.com has developed live chat software for websites and blogs. It caters to different online communities due to its high rate of chat widget connectivity. Everyone can create a customizable live chat box feature in 1 minute or less. Users have the ability to customize the size, color, and fonts of the chat product. The ability to chat via social media accounts such as Facebook and Twitter enable Chatwing to offer a personal and unique real-time experience to all sites. Chatwing is 100% free and very easy to use.