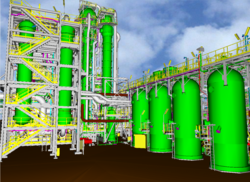 York, England (PRWEB) May 15, 2012
Jonathan White, a 3D laser scanning veteran with more than a decade of experience in project management, hardware and software development, and workflow implementation, has been hired to manage this new division in the Americas. Mark Reid, a Geomatics Engineer with eleven years' experience in the LiDAR industry, has been hired to spearhead the UK and remaining regions for this new division. Jonathan and Mark have been involved with some of the world's largest laser scanning based engineering projects.
So what's the big deal? It is no surprise that over the years 3D laser measurement technology has become increasingly popular amongst industry professionals. Obtaining information such as volumetric data, 3D models of underground abandoned mines and cavities, urban street mapping and rock face profiling (to name a few); have become easier and safer to obtain through advances in technology and a reduced price point within the market. MDL have gone a long way toward making vital hardware such as Dynascan, their portable mobile mapping solution, available to wider audiences.
The Technical Services division goes one step further, making the benefits of laser measurement technology available to all. From product hire for mapping land and sea based applications to project management, data processing and technical support, the options are becoming increasingly limitless.
When we asked Mark Reid about this new venture he commented that, "The aim with this new division is to provide a complete solution, whether it's project management support from the initial concept through to the finish, hiring out one of our laser measurement products for a one off job, or simply processing data, our aim is to ensure our customers get the most out of what we have to offer."
The Technical Services website has now gone live and can be accessed via the link below or through our main website http://www.mdl-laser.com.
Like us on Facebook
Follow us on Twitter
MDL Youtube
MDL Linkedin