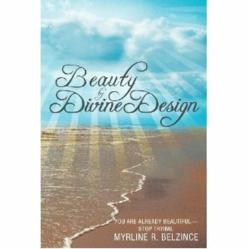 NEW YORK (PRWEB) May 15, 2012
In her new book "Beauty by Divine Design: You Are Already Beautiful – Stop Trying" (published by CrossBooks), author Myrline R. Belzince urges readers to celebrate their innate beauty. "No matter where you are in your life," she writes, "God knows and He cares. Created in His image, you are beautiful because God does not make mistakes."
An excerpt from "Beauty by Divine Design":
"If you want to get a full understanding of how fearfully, wonderfully, marvelously made you are – mind, soul, and body – let's go to the very beginning of creation. And no, the very beginning is not a big-bang explosion or expansion. You should know by now that all that God has created is good. Therefore, you are good. You are good enough. You are beautiful. You need not sell yourself cheap and common. You don't have to dress half-naked to be noticed or to be beautiful. Straight out of your mother's womb, you are beautiful. Don't believe me? That's okay. Take God's word for it in Genesis 1:21: 'So God created the great creatures of the sea and every living and moving thing with which the water teems, according to their kinds, and every winged bird according to its kind. And God saw that it was good. Yes, indeed. God's creatures are good. You are good.'"
Belzince knows the power of her book. "'Beauty by Divine Design' will appeal to people who are looking for a deeper relationship with God," she writes. "It will appeal to people who are looking to stop trying to please others and looking for validation. It will teach them that just because they were born, their lives are meaningful. It does not matter what other people think."
About the Author
Myrline R. Belzince was born and raised in rural Haiti. She immigrated to the U.S. in 1999. She studied nursing and psychology at the University of Massachusetts Boston. She then moved to New York to continue her education. In 2008, she earned a master's degree in nursing at New York University. She is a board-certified adult nurse practitioner. She loves to read, travel and exercise. She is the founding president of ROSE Campaign for Girls, a nonprofit organization whose mission is to keep children in rural Haiti in school. Belzince resides in New York.
CrossBooks, a division of LifeWay Christian Resources of the Southern Baptist Convention, is a Christian publishing imprint committed to bringing more Christian voices into the publishing industry. Established authors, first-time authors, and authors anywhere in between can meet their goals and fulfill their vision for their books by publishing with CrossBooks. CrossBooks' innovative style of publishing blends the best of traditional and self-publishing. While our authors contribute monetarily to cover the cost of publishing, we maintain a strict moral and quality standard that every manuscript must meet for us to publish. For more information on publishing your Christian book with CrossBooks, log on to crossbooks.com or call 1-866-879-0502.