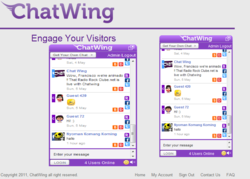 San Jose, CA (PRWEB) May 14, 2012
Short story writing has been one of the great facets of literature, based on the writers that have been submitting entries to different websites all over the world. In fact, there are many websites dedicated to the niche of creative writing. The activity of this niche never escaped the grasp of a chat widget known as Chatwing. Lately, the versatile application has branched out in the territory of short story writers. Now, these writers have been hanging out in Chatwing's online lounge.
Unlike other chatrooms in the Internet, Chatwing boasts simplicity mixed with efficiency. Chatwing is so simple that users can navigate in the website and start chatting right away. There is no need to download any third-party application. As a bonus, guests and visitors can take advantage of the Facebook integration feature. Through this, users can now send out invitations to others who logged in with their Facebook accounts. This feature has also appealed to short story writers because they get to expand their social networks to a certain scale.
Writers with bloggers have also benefited a lot from Chatwing when it comes to visibility. The Chatwing shout box is built to attract visitors from many parts of the world. It literally transforms a blog into an active chatting lounge where people can gather and talk about different stuff. "It's a basic communication tool. We made the platform as simple as possible so that people can have more fun. As for writers, they have been using the chat box to gather ideas and opinions. They also share their portfolios and Facebook groups," says Michael Diamond, one of Chatwing's early developers.
Bloggers have also loved Chatwing's easy installation mechanism for website chat. With that, bloggers can now save more time and focus on the chatting aspect right away. Product sellers have also used the widget as an extension of customer service. In this way, visitors can post their concerns and inquiries in real time.
About Chatwing.com
Chatwing.com has developed live chat software for websites and blogs. It caters to different online communities due to its high rate of connectivity. Everyone can create a customizable live free chat box feature in 1 minute or less. Users have the ability to customize the size, color, and fonts of the chat product. The ability to chat via social media accounts such as Facebook and Twitter enable Chatwing to offer a personal and unique real-time experience to all sites. Chatwing is 100% free and very easy to use.