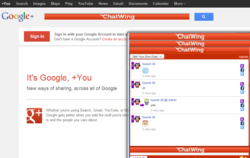 Cambridge, MA (PRWEB) May 14, 2012
Google+ appeared with a blast, and it is still gathering members from different parts of the world. This is based on Internet statistics and ranking of social networking sites. Facebook is still the most famous social networking site, but Google+ is still gaining ground. To help Google+ users gain the communication leverage they need, Chatwing recently launches a chat widget that can help them expand their circles.
Google+ has a simplistic user interface like Chatwing. This is due to the fact that simplicity plays a major factor in web surfing. Chatwing's developers have also banked on the premise of website chat because they believe that it is the key to efficient information delivery. They have also integrated Chatwing's platform with Facebook in order to help people expand their social horizons. Now, people have the option to log in using their Facebook accounts. They can also use Twitter so they can follow or be followed.
Many chatrooms have followed the same pattern of Chatwing, but they failed to deliver one hundred percent communication potential. Their problems have appeared one by one: lags, disconnections, and even information leakage. "Creating a versatile chat box has been an enjoyable challenge. We tweaked versions, hoping to give our one hundred percent to people. It was worth the shot. Now, Google+ users have been registering at a quick pace. We thank these users by continuously developing Chatwing and offering a new chatting experience," Says Michael Diamond, one of Chatwing's head developers.
Google+ users can experience instant messaging at its finest with the help of Chatwing chatrooms. This is why some online entrepreneurs have used Chatwing for their blogs and websites. In a way, Chatwing becomes a clear extension of customer service. Visitors were able to communicate directly with the blog owner. Also, visitors can use avatars and emoticons to make discussions more interesting than ever.
About Chatwing.com
Chatwing.com has developed live chat software for websites and blogs. It caters to different online communities due to its high rate of connectivity. Everyone can create a customizable live shoutbox in 1 minute or less. Users have the ability to customize the size, color, and fonts of the shout box product. The ability to chat via social media accounts such as Facebook and Twitter enable Chatwing to offer a personal and unique real-time experience to all sites. Chatwing is 100% free and very easy to use.