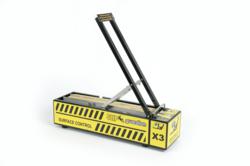 The product of over 25 years' practical experience, Slip Guardian utilises the latest microprocessor technology to make the proactive measurement and monitoring of floor surfaces as easy and convenient as cleaning them.
The Facilities Show, United Kingdom (PRWEB UK) 15 May 2012
According to the UK Health & Safety Executive (HSE) slip accidents represent the highest proportion of all workplace accidents and cost UK employers some £512million each year in lost productivity. To meet this growing problem, Slip Guardian has been launched by Surface Control Ltd., at the Facilities Show 2012. The product of over 25 years' practical experience, Slip Guardian utilises the latest microprocessor technology to make the proactive measurement and monitoring of floor surfaces as easy and convenient as cleaning them.
Mark Collins, managing director of Surface Control said, ''Company owners and managers have a legal responsibility to ensure a safe environment for their staff and customers – that includes ensuring that floor surfaces are safe and slip resistant. But until the public launch of Slip Guardian it has been time consuming and expensive to proactively guard against ubiquitous slip hazards. Testing is usually only carried out by specialist consultants using heavy and difficult-to-use equipment and ironically, most floor inspections are performed forensically, after an accident has occurred and whilst the lawyers have their meters running."
Slip Guardian has been designed for ease of use, with a compact and lightweight form factor. The new device enables the accurate and convenient assessment of slip hazards by almost anyone who has been through a simple and straightforward half-day's training. The low-cost system has been priced attractively to encourage any business to make slip hazard testing and recording a part of its ongoing safety and maintenance regime. Slip Guardian therefore enables all businesses from retail and industrial premises to hotels and restaurants to be proactive when dealing with floor safety.
How does Slip Guardian work?
Slip Guardian measures floor coefficient of resistance (CoE) and converts it to slip resistance value (SRV). The new device provides SRV for most floors in most places: from commercial kitchens and washrooms, to bathrooms and leisure centres, Slip Guardian will provide effective results on wet and dry surfaces in open places and enclosed spaces. It will even work in the bath or shower!
Readings can be recorded locally via Slip Guardian's LED display, or they can be stored electronically in memory and downloaded to a computer using a built-in data port. Slip Guardian measurements embody the testing principles of UKSG and the equipment conforms to BS 7976. Slip Guardian has been tested and evaluated by the Building Research Establishment (BRE), Watford, UK.
Measure and record to establish the best steps
Slip Guardian brings industry experience and technology together to make it convenient and straightforward to establish a track record for floor safety. In addition to simplifying the process of performing accurate measurements and monitoring, Surface Control also provides a unique online portal where results can be stored and reported.
Visibility of the data which is generated and stored by Slip Guardian enables companies to track progress towards better risk management of slip hazards. This establishes an audit trail of testing, and demonstrates best practice in floor safety and accident avoidance - good working habits together with an accountable system demonstrates a serious approach to safety. It also provides the information needed to build an action plan where improvement is needed.
Further details about Slip Guardian can be obtained by visiting Surface Control on stand L10 (Hall 2) at the Facilities Show, NEC May 15th - 17th, by telephone on +44 (0) 5601 290240, or by visiting the company's website: http://www.surfacecontrol.com.
Press Contacts:
Surface Control Ltd
Mark Collins
mark.collins(at)surfacecontrol(dot)com
Looker Marketing Communications
Tom Shearer
PR(at)looker(dot)co(dot)uk
About Surface Control
Surface Control Limited is a UK technology business specialised on the development of integrated hardware and software systems to improve floor safety. The company's products include Slip Guardian, a highly portable and accurate, low-cost and user-friendly system for the monitoring and control of floor surfaces. Prior to its nationwide launch at the Facilities Show 2012, Slip Guardian has been rigorously tested in niche markets to ensure its applicability and reliability in a variety of environmental conditions. The introduction of Slip Guardian represents a major step forward in the reduction of slip injuries, lost productivity and compensation costs. Surface Control works in close collaboration with the Building Research Establishment (BRE), and includes amongst its investors Trevor Baylis brands (http://www.trevorbaylisbrands.com).
Editors Notes:
The introduction of the European DIN 51130 Slip Standard for commercial and public areas and the C1028 Standard in the United States of America are being vigorously enforced and compensation claim sizes are growing.
The HSE which has adopted the European DIN 51130 test standard, recently provided statistics indicating that there is a slipping accident at work every 3 seconds, many of which result in absence from work. Furthermore, the HSE now state that the 'duty of care' imposed on a company under current legislation can be applied to the directors, general manager or supervisor of the area and that neglect of such duty can lead to a personal as well as corporate prosecution in the event of an accident.
Additionally, the HSE (and other worldwide bodies) have strict conditions that the owners of floors, used by employees and the general public, must ensure the surface is safe for use in wet and dry conditions. Businesses have a legal obligation to ensure that floor surfaces are safe and slip resistant. Failure to do so could not only be the cause of serious injury, but could also result in expensive legal action. Other statistics include:

Financial costs to UK employers alone total £512million per annum for loss of employee production due to slips at work
The cost to the National Health Service is £133 million per annum treating 10,500 individuals for serious broken bones due to slips
Slips, trips & falls accounted for 698,336 bed days in 2002/03 but accidents involving car occupants accounted for only 82,395
More major injuries in manufacturing and in the service sectors than any other cause.
Insurance claims and compensation has reached £800 million per annum for slip related accidents.