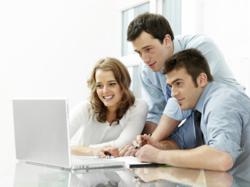 Most accountants opt for posting adjustments later. However, this is hardly the best way to keep your finger on the pulse of your business as it is right now
Bournemouth, UK (PRWEB UK) 18 May 2012
IRIS Accounting & Business Solutions has released a new whitepaper entitled 'Top 5 Tips for Painless Period End Reporting.'
The whitepaper provides accountants and financial managers with free advice to help identify and overcome some of the common pitfalls to period end and how a more flexible way could help manage this all-important process. The whitepaper is freely available to download on the IRIS Exchequer website.
Paul Sparkes, Product Director IRIS Accounting and Business Solutions says: "If a genuine mistake has been made at period end – a missed invoice is a typical example – it's possible to restore your backup and make the change, but it's a clunky, time-consuming process. Most accountants opt for posting adjustments later. However, this is hardly the best way to keep your finger on the pulse of your business as it is right now."
Sparkes continues; "Our new whitepaper provides some practical steps to help business organisations start their period end reporting on the right foot."
Tips covered in the whitepaper include the alternative to close period ends, including;
1. Stealing a march on the next period - knowing which transactions are set to hit at a later date
2. Shortening the 'close' cycle - using your accounting software to simplify and eliminate manual processes
3. Equipping decision makers with real-time information - with live management reporting
4. Understanding the underlying causes of unexpected expenditure - and the ability to drill down to the original transaction
5. Choosing software that lets you create standard reports - and then automatically re-running them for all future period ends
The whitepaper is available to download from the Downloads section of the IRIS Exchequer website along with free access to case studies and demonstrations.
About IRIS Exchequer:
IRIS Exchequer is a mid-market business and finance management solution that has received a number of awards over the years. Awards success includes winning 'Financial Software Provider of the Year' in the Real Finance/CBI FDs' Excellence Awards 2011, 2008, 2006 and 2005.
IRIS Exchequer was named the 'Best rated accounting product catering for businesses in the medium range' in an authoritative survey by the ICAEW (Institute of Chartered Accountants in England and Wales), the industry body which also accredits IRIS Exchequer.
For further information, please contact:
IRIS Accounting & Business Solutions
0844 815 5600
0844 815 5592
http://www.exchequer.com
Follow us on Twitter at @IRISenterprise