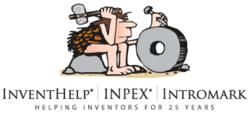 PITTSBURGH, PA (PRWEB) May 16, 2012
InventHelp®, America's largest invention submission company, announces that one of its clients, an inventor from Nebraska, has designed a board game that could inspire competition between players and bring out skills and strategy. This invention is patented.
"Marble Dice©" would feature multi-colored marbles and dice that would be used to get to home base before the other players, taking possible short cuts along the way. Ideal for family game night, Marble Dice© would provide quality bonding time between family and friends while teaching strategy and skill. Easy to learn and play, Marble Dice© board game would feature a colorful and eye-catching design.
Marble Dice© would consist of a square board game that would be producible from cardboard or plastic. The board would measure 24 inches in height and length and would be 1-1/2 inches in width. The game would be designed for two to four players, ages six years and older. The game would include four jumbo dice (white, red, yellow and blue), and 24 multi-colored marbles. The dice would be producible in four colors, one for each player. The game board would feature 24 marble holes per side, four home bases, four starting positions and one center hole for shortcuts. The starting player would be the one who would roll the highest number and play moves clockwise. The player must roll a 1 on their first roll to be able to move. If the player fails to roll a 1, they lose their turn. After the first round, if a player rolls a 1 or a 6, they continue to roll. At anytime during the game, if an opposing player lands on another player's marble, that marble goes back to the starting position. Shortcuts to the center would be located on the corner red dots and would require the player to roll a 1 to enter and leave. The object of the game: be the first player to get all six marbles "home" without getting killed by opposing players.
InventHelp® is attempting to submit the invention to companies for review. If substantial interest is expressed, the company will attempt to negotiate for a sale or royalties for the inventor. For more information, telephone Dept. 10-STK-142 at (800) 851-6030.
Manufacturers interested in reviewing additional inventions and new product ideas can contact InventHelp's marketing partner Intromark by filling out an online request to review new product ideas here.