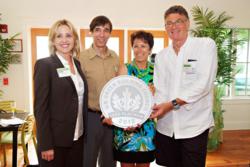 We hope that our "show and tell" project becomes recognized globally as a benchmark in sustainable working and living
Anna Maria Island, FL (PRWEB) May 16, 2012
The U.S. Green Building Council's LEED (Leadership in Energy and Environmental Design) certifications have been given to more than 48,000 commercial and industrial projects since the process began in March 2000, representing nearly 8 billion sq ft of space in 50 US states and 117 countries.
The Sears and Rosedale Cottages are two of only 14 buildings in Florida to achieve the highest possible standard – Platinum, achieved by a combination of:
1. A leading edge technology platform - a Smart Energy District, in an historic setting
2. Using hot technology (solar PV), a cool approach (geothermal cooling and heating) and a smart energy monitoring system.
The Smart Energy District created provides a real-world, real-time living laboratory for informing future sustainable design projects - what works, what doesn't, how do the systems perform over time.
In addition, the Village became a Net Zero Energy (NZE) campus, after only 11 months, generating more energy than it uses. To achieve NZE we focused on:

Reducing cooling and heating costs with a well insulated building, energy efficient windows and lighting and geothermal heat pumps
We carefully monitor energy use in real-time to identify where we can achieve additional savings
And we generate electricity and hot water using solar pv and solar thermal panels.
Rick Fedrizzi, Founder and CEO of the USGBC applauded owners Mike & Lizzie Thrasher on their achievement "I extend a personal congratulation to you for having the first two buildings in the Historic Green Village awarded our highest possible designation - LEED Platinum. The project is a remarkable demonstration of your commitment to sustainability. Achieving USGBC LEED Platinum certification and a Net Zero Energy designation means this is one of only a handful of projects in the world to achieve both accomplishments".
Jennifer McAllister, from the U.S. Green Building Council, presented Mike and Lizzie Thrasher with their LEED Platinum plaque at a champagne reception (May 9th 2012), attended by local County Officials, USGCB Members, Bradenton BRCVB and citizens and businesses in the area.
Lizzie Thrasher said: "Our vision, was to create a showcase for homeowners, building contractors, school students, business and Government decision-makers and influencers – so that they can see what's possible and can then adapt our ideas in their areas. We hope that our "show and tell" project becomes recognized globally as a benchmark in sustainable working and living". Thrasher added, "We are delighted that so many people from across the County have come to join us celebrate the rebirth of these historically significant buildings. It is taken a lot of hard work and dedication from an amazing team of people that have invested so much time and passion into what we are creating."
View the development of the Anna Maria Historic Green Village
Notes
1. The Historic Green Village is a collection of new and old buildings, compassionately restored, and powered completely by renewable energy, to create Florida's first LEED Platinum and Zero Net Energy Retail Park. The
Village covers 5 lots on Pine Avenue in Anna Maria City and when completed, will contain 7 commercial buildings and 2 rental units. The Village preserves the historic charm and scale of Old Florida, while providing a portfolio of technologies that demonstrates state-of-the-art in sustainable design and development. The Village generates more energy than it consumes (Zero Net Energy)), harvest rainwater and storm water and encourages a range of sustainable transportation choices (bicycling, electric carts and cars, Segways). All of the buildings are designed to meet LEED Platinum level – the highest level of certification from the US Green Building Council (USGBC).
2. The Washington D.C. based USGBC (U.S. Green Building Council) is a 501c3 profit organization committed to prosperous and sustainable future through cost-efficient and energy-saving green buildings. USGBC is the driving force of an industry that is projected to contribute $554 billion to the U.S. gross domestic product from 2009-2013. Buildings in the United States are responsible for 39% of CO2 emissions, 40% of energy consumption, 13% water consumption and 15% of GDP per year, making green building a source of significant economic and environmental opportunity. Greater building efficiency can meet 85% of future U.S. demand for energy, and a national commitment to green building has the potential to generate 2.5 million American jobs.
3. LEED (Leadership in Energy & Environmental Design, is an internationally recognized mark of excellence and provides building owners and operators with a framework for identifying and implementing practical and measurable green building design, construction, operations and maintenance solutions. LEED certification provides independent, third-party verification that a building, home or community was designed and built using strategies aimed at achieving high performance in key areas of human and environmental health: sustainable site development, water savings, energy efficiency, materials selection and indoor environmental quality. Each of these elements are awarded points, which then equate to either a Bronze, Silver, Gold or Platinum status. For more information: http://www.usgbc.org
4. The design-build team:
Gene Aubry, Architect
Raymond Kaiser, LEED Guidance and Administration, Director of Green Buildings, Stewart Engineering
Bill Stewart, Electrical and Mechanical Engineer, President, Stewart Engineering
Dan Gagne, General Contract, President, Gagne Construction
Lynn Townsend Burnett, Civil Engineer, Owner, LTE Engineering
Tom Stockebrand - Green Energy Consultant