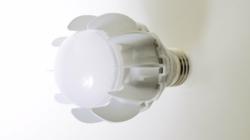 Consumers have always considered light bulbs as cheap, delicate, and semi-disposable products. With this new line of efficient, long-lasting, and pricier products, this belief has to change even though it may take some getting used to
Brooklyn, NY (PRWEB) May 14, 2012
A new 100-watt equivalent LED light bulb from General Electric known as the Energy Smart LED bulb was recently introduced at the Light Fair conference in Las Vegas. While it emits the same amount of light as a traditional 100-watt bulb, this bulb consumes only 27 watts. With a color temperature of 3000 Kelvin (technically white light), this bulb that gives off 1,600 lumens and will last for 23 years when used three hours a day. Traditionally, LED lamps produce a lot of heat, which can shorten the bulb's life and to address this problem, a company called Nuventix has incorporated 'synthetic jet cooling technology' where a diaphragm embedded in the GE bulb vibrates to create a current of cool air. The result of more than a year's collaboration with GE to miniaturize the technology, this innovation is quite high-tech for a light bulb.
The Energy Smart LED bulb is not expected to arrive before early 2013 and when compared to other high-end LEDs that cost as much as $60, the price of this bulb is hovering around $39-$49. A lighting expert at BulbAmerica.com explains, "With iconic technology making way for the new and Incandescent bulbs beginning their slow fade, LED's are inevitably the future even though they are pricey." Consumers have always considered light bulbs as cheap, delicate, and semi-disposable products. With this new line of efficient, long-lasting, and pricier products, this belief has to change even though it may take some getting used to.
With a customer base comprising over 175,000 customers, BulbAmerica is the largest wholesale provider of quality lighting fixtures and light bulbs in the United States. They have been a part of the industry for almost 10 years now. The reputable company offers quality products that include fluorescent, halogen light, LED, CFL, and incandescent bulbs, projector lamps, various LED lighting options including LED strips, etc. To access their latest FAQ section and knowledge base, visit http://www.bulbamerica.com today or call 1-877-650-0775.