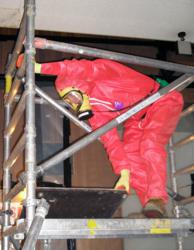 iStar Asbestos Management is fully-compliant with the new Control of Asbestos Regulations, CAR 2012, released by the HSE
(PRWEB UK) 16 May 2012
Thomson Ltd has made a number of enhancements to its iStar Asbestos Management software solution and has announced that the system is fully compliant with new CAR 2012 government regulations.
Improvements include a faster search function, a new intelligent mapping system and the ability to incorporate extra safety documentation for contaminated locations. iStar Asbestos Management is also fully-compliant with the new Control of Asbestos Regulations, CAR 2012, released by the Health and Safety Executive (HSE) on April 6, 2012, and which superseded the CAR 2006 guidelines.
iStar Asbestos Management is an asbestos risk-register and asbestos planning tool. It provides an easy-to-use database of all asbestos-containing materials (ACMs) across a site or estate's fixtures, fittings and infrastructure. All items are logged and cross-referenced with photos and site-grids, giving FMs, contractors and dutyholders clear and up-to-date information in accordance with strict HSE regulations for non-domestic premises.
The latest version of iStar Asbestos Management features a faster search facility. Users can now pin-point a location and generate a report within four mouse-clicks from the start screen. Added to this, the system can now import any type of image or map, automatically match it on its grid plan and display all the asbestos-related information for that area. In field tests, this new mapping function has made it quicker and easier for contractors to find the specific information they need for individual jobs.
There have also been improvements to iStar Asbestos Management's auditing capabilities. In addition to their certificate numbers, users can now attach full copies of clearance certificates, certificates of reoccupation, disposal certificates and others to any sample or location on their site.
iStar Asbestos Management alerts users to overdue inspections. A new feature allows authorised users to override the system to carry out inspections more often than indicated. This lets users fine-tune the management of locations which may legally only require inspection every six months, for example, to be checked more frequently if they are a cause for concern. The system does not allow inspections to be carried out less frequently if to do so would contravene HSE guidelines.
The new features are now included in all new licenses of iStar Asbestos Management software. Thomson Ltd provides on-site installation and training free of charge. New features are available as a free upgrade to all existing iStar Asbestos Management customers.
ENDS
For further information, please contact:
Seamus Quinn
PR Consultant
Cue Communications
07846 102192
seamus(dot)quinn(at)cuecommunications(dot)co(dot)uk
or
David Warrilow
iStar Deployment Manager
Thomson Ltd
01977 686100
davidw(at)thomson-group(dot)co(dot)uk
About Thomson Ltd
Thomson Ltd was established in 1974 and is one of Britain's leading asbestos abatement specialists. The company provides asbestos survey, assessment, sampling, analysis, removal and training services as well as the iStar Asbestos Management software solution. Thomson Ltd is accredited by industry organisations that include IOSH, ARCA, CHAS and TICA and won the ARCA Gold Training Award 2010-2011.
The company's headquarters are in Hillam, North Yorkshire. It has regional offices in north London, Rugeley, Didcot and Immingham. To find out more about Thomson Ltd and its iStar Asbestos Management solution, see: http://www.thomson-group.co.uk/istar_intro.html