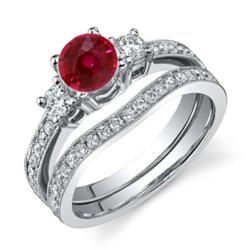 Customers can fine diamond engagement rings and bridal sets at Finetresor.com at affordable prices
Cockeysviile, MD (PRWEB) May 15, 2012
Finetresor is a leading online diamond engagement rings retailer. The company specializes in providing engagement rings, bridal sets and wedding bands at cheap and affordable prices. The company's core strength however lies in providing best customer service possible to all current and potential customers. And these efforts seem to be paying off, as the company has now achieved one of its highest level of positive customer satisfaction level.
"We are constantly trying to improve our customer service experience. As an online Jewelry company, it is imperative that we provide excellent customer service to all our customers. Our efforts seem to be paying off, as we have one of the highest customer satisfaction rate in the last quarter", says Mr. Kannu Sin, manager at Finetresor.com. He further added that while it is impossible for any company to satisfy 100% of the customers 100% of the time, what makes Finetresor.com an excellent company is that, it is getting close to that 100% mark.
Finetresor has received many positive customer reviews and customer ratings for its engagement rings, and this is pushing the company further to continue to provide best customer service experience. Mr. Sin further added that the Jewelry market is a very tough and competitive environment. One way that Finetresor.com distinguishes itself from the competitors is by providing superior level of customer service. He further says that online retailing is a very dynamic environment. And as such mistakes sometimes do happen, such as incorrect customer order gets shipped, or the customer order is delivered late. However, He states that Finetresor.com is constantly trying to reduce such problems and get more happy and satisfied customers. As a result Finetresor's list of customer testimonials keeps on increasing along with its list of satisfied customers.
Finetresor.com allows the customers to customize engagement rings with different product options. Customers can choose from different center diamond shapes such as Princess cut diamonds, and Round cut diamonds. They can also customize the engagement rings and bridal sets with the gold color of their choice, such as White Gold, Yellow Gold or even Rose Gold on few of its diamond engagement rings and wedding sets. Some of the bestselling diamond jewelry products for the company have been princess cut diamond engagement rings and bridal sets.
For a complete view of diamond engagement rings and wedding sets sold by Finetresor.com, please view the company's website. The company has a constant Sale's section also, where many engagement rings and wedding sets are available on further discount, and at affordable prices. The company also provides customers with payment layaway option, so that customers can now purchase their engagement rings and wedding sets with payment layaway method.