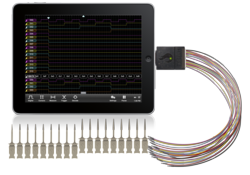 Merges a powerful logic analyzer and an iPad
Oklahoma City, OK (PRWEB) May 19, 2012
What happens when you merge a powerful logic analyzer and an iPad? Oscium's latest release LogiScope transforms an iPhone, iPad or iPod into a 100MHz logic analyzer with sixteen digital channels. LogiScope is ultra-portable and very easy to use, making it the ideal solution for the next generation of inventors.
Interested in a live demonstration? Oscium will be at Maker Faire in San Mateo. Stop by the GeekDad Blog booth on Saturday, May 19 or Sunday, May 20 to see it live.
"The user interface on LogiScope is extremely well executed," said Bryan Lee, President of Oscium. "It's our best interface yet."
Availability
Logiscope version 1.0.12 is available for download free in the Apple App Store. The LogiScope app is made for: iPod touch (3rd, and 4th generation), iPhone 4S, iPhone 4, iPhone 3GS, iPad 3, iPad 2, and iPad. LogiScope hardware can be purchased for $389.99 from Oscium directly or from one of our partners. Visit us at oscium.com to purchase or for more information.
About Oscium
Oscium designs test equipment you want to get your 'hands on'. We leverage the intuitive features and touchscreen technology found in the iOS family of products (iPad, iPhone, iPod touch) making test equipment easier to use than ever. As an MFi-approved developer, Oscium interfaces with the iOS family of products through the 30-pin dock connector, making our design both convenient and practical. Oscium has created a new category in test equipment called iOS Test with the following first-to-market accessories for the iPhone (and iPod touch, iPad) including:
iMSO-104, mixed signal oscilloscope
LogiScope, logic analyzer
WiPry-Combo, combination spectrum analyzer & dynamic power meter
WiPry-Power, dynamic power meter
WiPry-Spectrum, spectrum analyzer
The future of test equipment is at oscium.com
Oscium, the Oscium logo, iMSO, WiPry, Innovation for Inventors, and LogiScope are registered trademarks of Dechnia, LLC. All other trademarks are property of their owners.