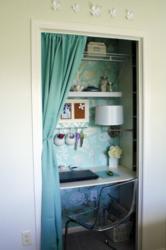 Organization is also important in the process of converting the closet into a home office. Organizing the contents of your closet before converting it into a home office is crucial.
Middletown, PA (PRWEB) May 15, 2012
In a new blog post, DecorSpark explains how to convert even the messiest of closets into a stylish new home office.
Most people have an extra closet or two in their home that either goes unused or even worse than that. It fills up with junk.
Why not declutter that closet and turn it into something useful?
Creating a home office in a closet is simple and actually more popular than most would expect.
The closet home office is actually a growing trend, believe it or not. People committed to downsizing their spaces have caught on to converting an extra closet into an office.
"Whether you live in a small space or big home, converting an unused closet is a perfect idea for creating your own little working space.
At downsize my space, expert interior designer and blog author, Candace shares her knowledge on how to increase the functionality of your home by downsizing your space. She has many organizational tips as well as other advice on how to downsize. One solution she's noticed among her peers is the emergence of the closet office.
Prepare to get inspired convert one of your own closets into an office...
"It's amazing how a simple curtain, some wallpaper, a desk and extra shelving transforms this small area into a little home office."
Learn how to Convert Your Closet Into a Home Office at DecorSpark!
Creating a home office out of a closet is extremely easy to do, it just takes some time, organization tactics, and patience, but in the end the closet conversion is worth the effort.
For some great organization tips, check out these storage solutions for all spaces.
Utilizing space in the home is extremely important, especially if space is limited. Why not go ahead and have your own secret work space? For additional DIY projects as well as the best stories about home decor and interior design, make sure to visit DecorSpark!
Visit DecorSpark on Facebook too!