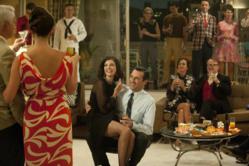 One thing is for certain, Don Draper's NYC apartment new apartment is so stylish and chic. Starting with the living room we see lots of classic 1960′s style.
Middletown, PA (PRWEB) May 16, 2012
Recently DecorSpark reviewed Don Draper's new NYC apartment from Season Five of Mad Men, looking at each room, showing how to recreate the same sophisticated 1960's style.
Just about everyone is mad about Mad Men right now, and not just for the show. The season five premiere alone grossed in with more than 3.5 million viewers. So, it's safe to say that the way the set designers recreate that 1960's style have people just as mesmerized as the plot itself.
Want to learn how to decorate your house like the set of Mad Men? Well, DecorSpark.com bridges the gap between the set of Don Draper's NYC apartment and the people who want to create the look for themselves.
By breaking down each room of Draper's apartment, DecorSpark.com shows how to recreate the same classic Mad Men style, and explain where to find vintage decor and Mad Men inspired home furnishings and misc. items. One thing is certain, DecorSpark.com can help bring the spirit of the 1960's to any home or apartment in any locale.
However, one big question remains: What's all this "madness" over the set Mad Men?
"Part of the allure of Mad Men is people's fascination and infatuation with vintage fashion and home decor. I mean, we love the 1960′s, or at least the better part of it.In season five we see Don Draper living with his new wife in their swank new apartment in New York City (I'll leave it at that and spare the spoilers for those not completely in tune with the new season).
Needless to say, his new apartment in NYC is quite a bit of a different from his suburban home in Ossining, Westchester County, New York."
People who watch the show know how contrasting Don Draper's new apartment is compared to his old home with Betty Draper. Anyone can see his apartment is way more modern, chic, savvy and looks like the home of a true Manhattanite.
To get the hottest looks from Don Draper's NYC apartment, make sure to check out: Mad for Mad Men: A Look at Don Draper's Apartment, by DecorSpark.com. Also, learn how to convert your junk closet into a home office from DecorSpark.com
Don't forget to check us out of facebook too!