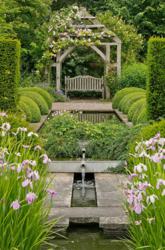 Wouldn't you love the landscaping in your garden to look like the one pictured? Could you imagine just sitting there, enjoying the beauty of nature. Basking in quiet of your back yard with nothing but soft sound of water from your fountain?
Middletown, PA (PRWEB) May 17, 2012
For some, a garden is nothing more than a few flower bushes or a bed vegetables, but for some people, that is not enough. As a result, a growing outdoor decorating trend amongst homeowners is transforming their garden into a sanctuary, right in their own backyard. DecorSpark.com shows readers how to turn any backyard into a garden sanctuary.
It is not as difficult as one may think to create a luxurious garden retreat. Here are 38 garden design ideas for turning your home into a peaceful refuge by Fresh Home that is guaranteed to inspire. This blog post rounds up various different yard styles via photographs. There is something for everyone.
Landscaping sounds like serious stuff, but it is not as intensive as one may think. The landscaping can be a DIY project with a little research and elbow grease or the other option is to call in the professionals and hire a landscaper to do do the dirty work.
DecorSpark.com has great examples of different landscaping styles in their recent blog, 38 Design Ideas for a Garden Sanctuary. What it comes down to is, depending on the style of the yard depends on how much landscaping actually needs to be done. It's best to have a plan, and then worry about the rest.
According to Fresh Home, "The right garden accessories and plant species can set the tone for an incredible outdoor atmosphere, an invigorating place of retreat."
"Designing your garden should be fun and relaxing. Some ideas include green labyrinths, cobblestone pathways, small ponds, water fountains, colorful flowers and small round trees. These are all ways of creating the best garden experience for yourself possible."
Make sure to read the rest of 38 Design Ideas for a Garden Sanctuary and check out the photos. The photographs alone are enough to generate 38 ideas!
Be sure to check out DecorSpark for more stories about design, decor, and everything in between. We even review and pick apart the interiors of your favorite television shows and movies. DecorSpark.com recently looked at Don Draper's new apartment in the current season of Mad Men. Check it out.
Don't forget to visit us on facebook too.