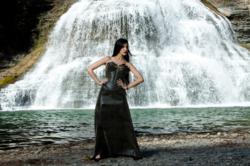 "One-third of all amphibians are at risk of extinction," warns Wild. "And if we don't act fast, we may loose them forever in what is potentially becoming the 6th Mass Extinction, which will be the first one induced by humans."
Ithaca, NY (PRWEB) May 16, 2012
Internationally acclaimed wildlife conservatist, Gabby Wild, is wearing a dress representing the critically endangered Chinese giant salamander for the entire month of May. The dress, composed of ecologically friendly fabrics, was designed by environmental fashion guru, Luis Valenzuela. Bedazzled in Swarovski crystal elements, black vinyl frills, and fastened with a recycled plastic corsette, Wild has been wearing Valenzuela's creation in an effort to save the Chinese Giant Salamander, the largest living amphibian in the world, from extinction.
Wild, a veterinary student at Cornell University and president of The Gabby Wild Foundation, Inc. 501(c)(3), is on a mission to save one endangered animal species every month in 2012. By wearing "green" garments custom-made by renowned fashion designers predominantly from the Emmy-Award winning TV Show, Project Runway, she spreads awareness and fundraises for each of the 12 selected species' survival in a campaign titled "12 in 12 for 12" (12 outfits in 12 months for 12 endangered animals). The campaign has been proclaimed as "Brilliant! Absolutely brilliant!" by Rod Manley, SVP of Communications of Giorgio Armani US. For Wild's conservational efforts, the Zoological Society of London has titled her "Champion", and fans have dubbed her "the guardian angel of wildlife".
"We as artists have an important talent to communicate with the masses; this is a great opportunity to use it to honor my muse, Nature, and to help prevent it from despairing," said Valenzuela, creator of EcoArtFashion©, when asked why he decided to turn the striking conservationist into a Lord of The Ring's Gollum-like creature. Sharing a mutual eco-passion with fashion, Wild and Valenzuela have promoted the salamander's conservation together at New York Fashion Week's The Green Shows at the Lincoln Center, Fashion Fights Poverty in Washington DC, EarthDayMiami, and Sustainatopia, where both were named "Heros of the Revolution". Wild has worked with a vast array of animals from squirrels to elephants in over four continents. Like Wild, Valenzuela is involved internationally: his fashion has appeared in art institutions including the Kennedy Center in Washington DC and the Adrienne Arsht Center for the Performing Arts Miami, and in magazine publications such as Elle and Vogue.
"One-third of all amphibians are at risk of extinction," warns Wild. "And if we don't act fast, we may loose them forever in what is potentially becoming the 6th Mass Extinction, which will be the first one induced by humans."
To donate and learn more details on Gabby Wild and the "12 in 12 for 12" campaign can be found at http://www.gabbywild.com