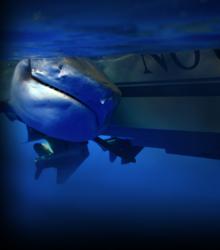 Miami, FL (PRWEB) May 16, 2012
Changing Seas, an Emmy award- winning WPBT2 original production, returns to the airwaves and internet this June with four new episodes. The new season takes viewers into the blue to explore topics ranging from the migration patterns of tiger sharks and the effects of the shark fin trade to the last great reproductive population of the endangered Nassau Grouper. Changing Seas premieres Wednesday, June 6 at 7:30 p.m. on WPBT2.
Viewers can watch an online preview of the season premiere episode, Tracking Tigers, on Thursday, May 31 at 7:30 p.m. EST on http://www.wpbt2.org/webcast. The Changing Seas crew and featured experts will be online to chat with viewers and answer their questions.
Changing Seas, currently in its fourth season, is a television series that focuses on ocean issues and exploration. This series goes to sea with the explorers and scientists, enabling viewers to experience first-hand how oceanographers and other experts study earth's last frontier.
Changing Seas is currently carried by 89% of PBS stations, reaching more than 250,000,000 people nationwide. Internationally the series is broadcast in Spain, Portugal, South Africa, Andorra, Lesotho, Nigeria and Swaziland, with additional broadcasts pending in 22 other countries.
Major funding for this series is made possible by the Batchelor Foundation and Divers Direct.
EPISODE DESCRIPTIONS:
SHOW #401: Tracking Tigers- Broadcast Date: Wednesday, June 6, 2012
Tiger sharks are the ultimate apex predators. Scientists use satellite tags and DNA forensic tools to better understand the migrations of this magnificent species and to investigate the impacts of the world shark fin trade.
SHOW #402: Mysterious Microbes- Broadcast Date: Wednesday, June 13, 2012
On coral reefs, microorganisms are copious creatures. Throughout Florida, scientists painstakingly work to identify key players within this microbial community and directly link a devastating coral disease to a human pathogen.
SHOW #403: Grouper Moon- Broadcast Date: Wednesday, June 20, 2012
During the winter full moons Nassau grouper gather in large numbers to spawn. Most of the known spawning sites have been fished out, but the Cayman Islands are home to the last great reproductive population of this endangered species.
SHOW #404: Coastal Carnivores- Broadcast Date: Wednesday, June 27, 2012
A co-production with Symbio Studios
Scientists studying the coastal Everglades have made some perplexing discoveries. Bull sharks are living upstream where alligators should thrive, and gators are swimming out to the ocean to feed.
About WPBT2
South Florida's premier public broadcaster, WPBT2, is a community-licensed, not-for-profit media enterprise serving communities from the Treasure Coast to the Florida Keys. WPBT2 provides high quality content from PBS, independent acquisitions and its own original productions. WPBT2's digital media platform, offers: 2HD, a 24-hour high definition channel; Digital 2.2, a mix of Science & Nature Channel, The Florida Channel and Create; Digital 2.3, V-me, a 24-hour national Spanish-language network; and http://www.wpbt2.org, the WPBT2 website including, Impromp2 (a community blog), the WPBT2 Video Player and uVu, a video sharing website.