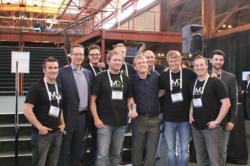 The introduction of a deals solution combined with PFM is a perfect match. MoneyDesktop has made it very clear why it is a leader in fintech
Provo, Utah (PRWEB) May 14, 2012
At FinovateSpring, the premier fintech conference worldwide, MoneyDesktop, an innovative leader in PFM (personal financial management) and other financial technology, was voted Best of Show from 64 other presenting companies. A record-breaking audience of over 1,200 attendees was asked to vote for the FinovateSpring Best of Show and MoneyDesktop, with its sleek new tablet PFM and a completely new, value-driven Deals product, was voted a winner.
Although MoneyDesktop's elegantly designed tablet PFM was a conference highlight, MoneyDesktop's focus was on its newest product, Deals. Based on the philosophy that Deals is an "igniter to PFM", the company has broken new ground and built a solution that is hardwired to the backbone of its PFM platform. The result is highly relevant, targeted, intelligent and adaptive Deals that create value for the financial institutions distributing them, the merchants offering them and the consumers usig them. MoneyDesktop's new deals platform will empower financial institutions to attract new account holders faster and at a lower cost while building tremendous loyalty with existing account holders.
Eric Mattson, CEO of The Finovate Group said, "We were not surprised that MoneyDesktop took home a Best of Show award at FinovateSpring this year. The company's innovative and beautiful user experience really wowed the crowd."
Those in the audience were also impressed by MoneyDesktop's presentation and expressed their enthusiasm on Twitter, for the products being demoed. One attendee JJ O'Brien tweeted, "wow. @moneydesktop beautiful UI on both the iPad and iPhone Deals... Best design at #finovate so far...by a mile."
Also in the crowd was Howie Wu, BTN Innovator of the year and VP of Virtual Banking at BECU. Wu commented "MoneyDesktop's iPad app is the sharpest I've seen at Finovate to date. That demo alone, elevated the bar to an entirely new level for future Finovate conferences." Wu continued, "The introduction of a deals solution combined with PFM is a perfect match. MoneyDesktop has made it very clear why it is a leader in Fintech."
Another attendee, Bradley Leimer, VP of Online/Mobile Strategy at Mechanics Bank commented, "MoneyDesktop's presentation at Finovate was the first time in several years that I actually got excited about anything to do with PFM. When you combine an immediately engaging user experience with the ability to truly drill down into your financial data, and then add integration of a very unique deals platform - that's a win in my book any day."
At the core of MoneyDesktop's product development is the philosophy that PFM, with account aggregation, is fundamental to empowering banks and credit unions to become the primary financial institution (PFI) to account holders. As the banking industry shifts at an increasingly rapid pace, those financial institutions that hold the position of PFI will be best positioned to dramatically increase wallet-share and loan volume.
Ryan Caldwell, CEO of MoneyDesktop states, "Deals by MoneyDesktop, is an accelerator to PFM. By tightly coupling Deals with PFM, financial institutions will increase existing user engagement and rapidly cast a broad net over potential users." Caldwell continues, "As new users convert to account holders, PFM will position that financial institution as the financial hub where the new account holder will migrate their loan products, which increases loan volume"
About MoneyDesktop
In just over 18 months, MoneyDesktop has signed more than 270 clients, added 22 online banking, core and payment network partners, and is leading the way as the next generation of PFM and is redefining the way that people interact with their finances. Through its award-winning PFM, MoneyDesktop has established its place as a leader in PFM and has become the fastest-growing provider of its kind. By integrating directly into online banking, core, and payment platforms, MoneyDesktop positions banks, credit unions and payment providers as primary financial institutions and provides tools that dramatically impacts loan volume, user acquisition, and wallet-share. For more information contact Nate Gardner at 801.669.5534, email press(at)moneydesktop(dot)com or visit http://www.moneydesktop.com
About FinovateSpring
FinovateSpring is a demo-based conference for innovative startups and established companies in the fields of banking and financial technology. Held in San Francisco, the event offers an insight-packed glimpse of the future of money via a fast-paced, intimate and unique format. FinovateSpring is organized by The Finovate Group. For more information on the event or to view videos of previous demos, please visit http://www.finovate.com/spring2012.