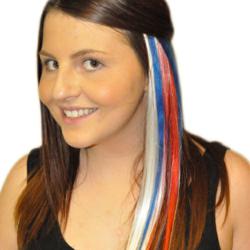 something new and innovative to help show our patriotism
(PRWEB UK) 15 May 2012
The UK is going Union Jack crazy as we begin to prepare for our extra Bank Holiday in celebration of the Queen's 60 year reign. BuyHair.co.uk has quickly responded to the upcoming celebrations by launching Union Jack Products such as contact lenses and lip tattoos, along with exclusive clip in hair extensions to mark the event.
Clip in hair extensions give customers the peace of mind that their hair is not being damaged by harmful glues and dyes. Clips make it quick and simple to apply and remove the extensions - meaning customers can change their hair as often as they change their clothes.
The limited edition Union Jack Hair Extensions come as a pack of three clip in extensions – Blue, White and Red, each 1 inch wide. This allows customers to choose where they would like to place the clips and in which order.
Union Jack Hair Extensions are expected to reach a peak in sales this summer, with the Queen's Diamond Jubilee in sight and the Olympics just around the corner. It's refreshing to see something new and innovative to help to show our patriotism, aside from the usual flags and printed t-shirts.
Union Jack Hair Extensions are sure to be a big hit this year, but as with all limited edition products – they are only available while stock lasts. Find out more about Union Jack Hair Extensions and how they can be purchased for only £10 at http://www.buyhair.co.uk/british