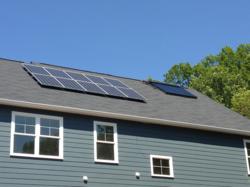 "This Solar PV systems will greatly help our customer reduce their energy consumption and could be a model for their neighborhood," says Greg Boyce of One Stop Green.
Washington, DC (PRWEB) May 14, 2012
After conducting an initial site survey and identifying the ideal area for a solar PV system, One Stop Green, an online retailer for energy efficient products and installer of solar systems for residential and commercial properties, has completed the installation of a 2.5kW Solar PV and Solar Thermal system for hot water, which includes the expansion for additional modules.
Beginning in late 2011, One Stop Green was contacted by a homebuilder who was interested in making a new home they were building in Alexandria, Virginia, entirely green and energy efficient. One Stop Green sent out a sales associate who walked the homebuilder through the entire process beginning with a site survey when the home was still in the phase of construction. From there, One Stop Green worked with the homebuilder to determine a budget and identify those items that are most important to the eventual owner of the home. The homebuilder was aware that energy prices will steadily continue to rise and a small solar PV system in conjunction with a solar hot water system to provide hot water for the home would help to mitigate those high electricity costs.
After working to prioritize the homebuilder's requests, One Stop Green developed the plans for a 2.5kW system that would produce approximately 3,991 kWh annually, or about 40% of the home's energy usage along with a solar thermal package that would provide hot water for the entire home. Because historic consumption rates we're not available, One Stop Green used surrounding homes to determine consumption rates and estimate power production that will offset electricity usage. As panel prices become cheaper and more incentives become available in this area, the homebuilder wanted to give the option to the eventual homeowner to be able to expand their system, which is why One Stop Green installed additional flash mounts so as to prevent unnecessary work associated with installation of more modules. The homebuilder was so happy with the overall install of the solar PV and hot water systems – the first in the neighborhood, and potential to save money for the homeowner on their energy bills that they have asked One Stop Green to return once construction is complete to offer additional products such as energy saving LED light bulbs, water saving toilets, faucets, and rain water harvesting systems to make this home as energy efficient as possible.
One Stop Green, LLC facilitates environmentally friendly improvements to residential and commercial properties through distribution of green, energy efficient products and services. They offer every product needed for sustainable energy independence enabling homeowners, businesses and commercial property owners to master their usage by reducing waste and implementing efficient energy consumption methods. Their goal is to provide user friendly and practical long-term solutions to existing inefficiencies and their carefully selected products and professional installers offer a higher level of satisfaction and service for their customers.
Contact:
Nathan Kaufman
http://www.OneStopGreen.com
P: 877.449.9110|O: 713.541.2739|C: 210.846.5900
###