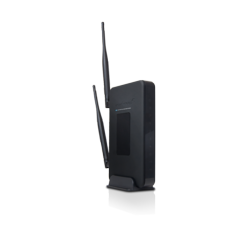 The R20000G is the ideal product for any consumer that wants to outfit their entire office or home and backyard, with a high performance router with the most Wi-Fi coverage on the market today
Chino Hills, CA (PRWEB) May 14, 2012
Amped Wireless, the leading manufacturer of high-power, long-range wireless communications products for the home and office, today unveiled its new flagship, high-performance, long range router – the R20000G High Power Wireless-N Gigabit Dual Band Router.
Engineered to deliver exceptional levels of performance, power and flexibility, this new router is designed for use in large homes and offices. The R20000G brings unprecedented, simultaneous dual band Wi-Fi to home and office users of up to 10,000 square feet of coverage or a quarter of an acre, the same size as a major league baseball diamond.
This new router not only boost wireless coverage, the R20000G delivers industry leading speed of up to 600Mbps for smooth streaming of video, music and uninterrupted gaming across a number of devices, including: Game Consoles, iPads, Internet TVs, Notebooks, PC, Smart Phones, Tablets, VoIP devices and more.
"Amped Wireless has continued to make strides in the industry with our innovative power amplifying technology and design," stated Jason Owen, president and CEO at Amped Wireless. "The R20000G is the ideal product for any consumer that wants to outfit their entire office or home and backyard, with a high performance router with the most Wi-Fi coverage on the market today."
Building on their award-winning Wi-Fi technology, the R20000G is engineered with the latest state-of-the-art wireless features which includes:

Dual high power 2.4Ghz 600mW amplifiers, dual high power 5.0GHz amplifiers and dual low noise amplifiers for improving wireless reception
Dual High Gain 5dBi detachable dual band antennas
High speed 620MHz internal processor for faster networking
Simultaneous 2.4GHz and 5.0GHz dual band 802.11n technology
The combination of advanced power amplifiers, wireless reception amplifiers and high gain antennas, provide users with a significant increase in signal strength over great distances to improve home or office Wi-Fi coverage.
The R20000G also features 5x gigabit networking ports for connecting additional wired network devices, and a USB 2.0 port to share files among connected users. The high power router includes premium features such as, guest networks, adjustable Wi-Fi coverage controls, parental controls, website blocking and support for the latest Wi-Fi security to secure your Wi-Fi experience.
All Amped Wireless products include industry leading, US based, in-house Elite Support, provided by Amped Concierges and the Wi-Fi Analytics Android App to assist users in optimizing Wi-Fi networks. In addition, the R20000G is eligible for Amped Wireless' Range Increase Guarantee Program. For more information, please visit: http://www.ampedwireless.com/
Pricing and Availability
The new R20000G High Power Dual Band Router retails for $179.99 (USD) and is available immediately from the Amped Wireless online store at: http://www.ampedwireless.com/products/r20000g.html
It will be available via retailers online and in-store nationwide in early May 2012.
About Amped Wireless
Amped Wireless' mission is to develop the highest quality, long range wireless products through experience, passion, innovation and advanced technology that exceed customers' needs and expectations. Amped Wireless specializes in providing long range wireless consumer and business communications products for home and office. For more information on Amped Wireless please visit the company's website at http://www.ampedwireless.com.
Amped Wireless: The Leader in High Power Wireless Networking.