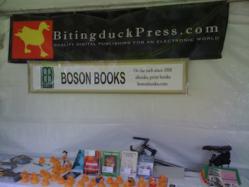 We love trees (and ducks), and we also love bookstores

Los Angeles, CA (PRWEB) May 16, 2012
Are e-books green? Although creation of e-readers has a carbon footprint, the break-even point is at about twenty books. Since most are used for hundreds of books, e-readers are good for the environment, say several studies.
Bitingduck Press, of Altadena, California and Montreal, Quebec, aims to make e-books greener still. "The key is to keep local bookstores and other businesses thriving," says founder Jay Nadeau, who admits she still loves curling up with a paper book. One way Bitingduck does this is to arrange for print-on-demand of its e-titles through independent bookstores. Customers wanting a print copy will be directed to the bookstore site, where they can place an order as if for any print book. The press also offers its entire e-catalog to local libraries at a large discount.
Some of the ecological benefits of e-publishing are less tangible but nonetheless real. At the May 12 Pasadena LitFest, Bitingduck was able to deliver its entire catalog of almost 140 books, including press kits and swag, in a Bike Friday bicycle trailer. Each book in the catalog is marked with a QR code and URL. Visitors with smartphones can read the code and go immediately to the site where the book can be purchased for any e-reader.
Because overhead costs are low, prices for the press's e-books are also reasonable, and significantly lower than for the print versions ($2.99-$9.99 for all titles).
The press's founder are all PhDs in physics who love a technical challenge. Part of what inspired Bitingduck's creation was the rapid growth of new devices and software that make e-formatting possible for nearly any book. "Just six months ago we said we couldn't handle illustrated children's books," says Jay. "Now we're actively looking for them." Equations, photos, even video can all be handled by the new generation of e-readers.
The press is actively seeking partnerships with local bookstores for print-on-demand, and welcomes submissions from new authors, especially of technical non-fiction and fiction about academia or the lives of scientists. They also love young adult and children's books.