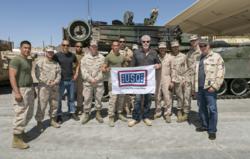 "Spending the day with the Marines and their families at 29 Palms, on my first USO visit, was a great experience," said Perlman. "I can't thank them enough for their service and sacrifice."
Arlington, VA (PRWEB) May 14, 2012
Actors Ron Perlman, Theo Rossi and Dayton Callie, stars from the FX original series "Sons of Anarchy," are used to drawing crowds of fans wherever they go, but when the trio rolled onto the grounds of Marine Corps Air Ground Combat Center (MCAGCC) 29 Palms for a USO visit they were greeted by some of their favorite fans, U.S. Marines and their families. Perlman, who stars as club president 'Clay Morrow,' along with fellow cast mates Rossi, who plays club member 'Juice' and Callie, who portrays club ally and retired top cop 'Chief Unser,' recently took time from their busy schedules to show some love to troops and their families stationed at MCAGCC 29. The actors spent the day signing autographs, posing for photos and getting up close and personal with their military fans.
Details:

Perlman, Rossi and Callie lifted the spirits of hundreds of troops and military families currently serving at MCAGCC 29 Palms
This was the first USO tour experience for Perlman and the second USO experience for both Rossi and Callie. In 2010, the duo, along with fellow cast member Kim Coates and Mark Boone Junior, visited more than 2,000 service men and women stationed overseas in Kuwait and Iraq.
An Award-winning actor Perlman's on-screen accomplishments include fan favorites such as "Hellboy," and "Blade 2" as well as projects like "Quest for Fire," "City of Lost Children," and the Oscar-winning short "Two Soldiers," among others. Perlman's most recent film credits include the blockbusters "Conan the Barbarian" and "DRIVE."
Rossi studied acting at the prestigious Lee Strasberg Theater Institute in New York and has appeared in hit television shows such as "Las Vegas," "Lie to Me," and "Terminator: The Sarah Connor Chronicles." When not filming Rossi is a big supporter of U.S. troops and works with several organizations, including the USO, to help raise awareness and funds for the military community.
Best known for his role as 'Charlie Utter' on HBO's "Deadwood," veteran actor Callie's career spans an impressive two decades and includes appearances in over 20 off-Broadway stage productions as well as roles in film and television including "K-Ville," "CSI: Crime Scene Investigation" and "Derailed," among other projects.
Quotes:
Attributed to Ron Perlman:
"Spending the day with the Marines and their families at 29 Palms, on my first USO visit, was a great experience. I can't thank them enough for their service and sacrifice."
Attributed to Theo Rossi:
"What a day! Every time I spend time with our troops I can't believe how awesome it is, thank you to the guys at 29 Palms for having us out and thank you to the USO for making the day possible."
Attributed to Dayton Callie:
"Ron, Theo and I had a great day at 29 Palms, it was an amazing experience. I can't wait to work with the USO again and to continue to show my support for our men and women in uniform."
For more information about the USO, visit uso.org.
Multimedia:
USO Tour Photos: http://bit.ly/Jbr5v4
USO Fact Sheet: http://bit.ly/yaebvo
USO Logo: https://uso.box.net/shared/6q5cq0siij
Other Web Sites:
http://www.uso.org
http://www.fxnetworks.com/shows/originals/soa/
About the USO
The USO (United Service Organizations) lifts the spirits of America's troops and their families millions of times each year at hundreds of places worldwide. We provide a touch of home through centers at airports and military bases in the U.S. and abroad, top quality entertainment and innovative programs and services. We also provide critical support to those who need us most, including forward-deployed troops, military families, wounded warriors and their families and the families of the fallen.
The USO is a private, nonprofit organization, not a government agency. We rely on the generosity of our volunteers and donors. In addition to individual donors and corporate sponsors, the USO is supported by President's Circle Partners: American Airlines, AT&T, Clear Channel, Kangaroo Express, Kroger, Lowe's, Northrop Grumman Corporation, Procter & Gamble, and TriWest Healthcare Alliance and Worldwide Strategic Partners: BAE Systems, The Boeing Company, The Coca-Cola Company, Lockheed Martin, and Microsoft Corporation. We are also supported through the United Way and Combined Federal Campaign (CFC-11381). To join us in this patriotic mission, and to learn more about the USO, please visit uso.org.
# # #