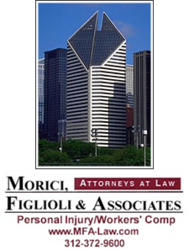 Chicago, IL (PRWEB) May 15, 2012
Morici, FIglioli and Associates is a Workers' Compensation and Personal Injury law firm in Chicago Illinois. The attorneys that practice at this Chicago law firm are constantly familiarizing themselves with new bills and amendments to state laws, making sure to take a stand for any changes that could potentially hurt Illinois workers' rights. Chicago workers' compensation attorney, David Figlioli has outlined some of the important changes that have been recently made to the Illinois Workers' Compensation Act. These modifications went into effect on September 11, 2011 and will affect benefits injured workers receive in the future. Some of these changes will also affect the benefits and rights current injured workers may have with pending cases.
Chicago workers' compensation lawyer, David Figlioli explains one of these changes to the Illinois Workers' Compensation Act deals with the employer or workers' compensation insurance carrier's ability to deny payment for medical treatment that may be recommended by the injured worker's treating physician. The Chicago workers' compensation lawyers goes on to explain "…under section 8.7 (i)(3) of the Act, an employer or insurance company can only deny payment or refuse to authorize payment for medical services if the treatment is 'excessive and unnecessary' in compliance with an accredited utilization review program."
Basically the "utilization review" is an opportunity for a third party physician, in the same specialty or practice area to review the medical records from the treating physician. After this happens, the injured workers treating physician will have a reasonable period of time to go through the third party physician's report and will also be able to respond to a denial of their treatment.
If this opportunity is not provided, the review will not be considered by the Illinois Workers' Compensation Commission. The physician who completed the utilization review will also be responsible for providing testimony on how he/she came to their conclusion. This testimony can be done through a deposition or actually testifying at a hearing at the Illinois Workers' Compensation Commission.
Chicago workers' compensation lawyer, David Figlioli states "the initial treating doctor also has an opportunity to sit for a deposition or testify at a hearing and give their opinion as to why their medical recommendations were made.
If you are faced with a situation similar to the one above, you should consider seeking legal representation. The workers compensation attorneys at the Chicago personal injury and workers compensation law firm Morici, Figlioli and Associates always give complimentary consultations. For a consultation please call (312) 372-9600 and visit their website at http://www.moricifiglioli.com -###-