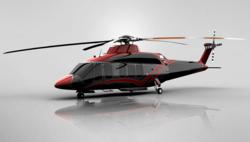 Supporting the missions of our customers is a source of great pride and passion for all of us at Bell Helicopter -- and we are proud to continue to be recognized as the best in the industry.
Fort Worth, Texas (PRWEB) May 15, 2012
Rivaling any of the past models Bell Helicopter has to offer, the 525 Relentless has taken technology and performance to the next level. This 16 passenger vertical aircraft was designed to not only to give passengers a luxurious travel experience but also safety to fly in all different types of heavy weather conditions. The 525 was also designed to be able to fly long distance while carrying heavy payloads with lower economic expenses as well.
"Built from an entirely clean-sheet design, the 525 employs several technological innovations, including fly-by-wire flight controls, two all-new powerful and efficient GE turbine engines, and a new tail boom that delivers better hover performance."
Read more at: bellhelicopter.com
A representative from BillionairesBunker.com states that the 525 Relentless is one of the most technologically advanced helicopter the world has yet to see. Built to withstand the severe weather conditions mother nature has to offer plus improving performance to improve cost efficiency and safety, the 525 Relentless is truly a superior aircraft.
Although the 525 Relentless is projected to release it's VIP corporate configuration. Bell has not yet released a price or an estimated time for first delivery, but the company expects the first prototype to take flight in 2014. Until then, billionaires will have to wait to get a taste of it's luxurious performance.
Learn more 525 Relentless at: BillionairesBunker.com