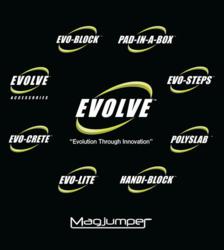 our Evo-Crete technology provides all of the necessary strength at a significantly reduced weight.
Columbia, MD (PRWEB) May 15, 2012
Evolve Composites, along with building industry leader Parksite, will look to have a significant presence at the upcoming Do It Best Spring Market in Indianapolis, IN from May 19th through May 21st 2012. Having recently expanded their existing distribution and marketing partnership, Evolve and Parksite are now looking to extend their reach by introducing Evolve's growing home improvement product line to the more than 4000 Do It Best retail partners expected to attend next week's confab. Evolve Composites proprietary Evo-Crete Technology continues to build momentum and set new standards for Ultra Light Weight concrete products and currently includes the highly touted Handi Block Deck Piers as well as the brand new Evo-Block Garden Blocks.
Handi-Blocks are an easy to use, tested and certified, cost-effective alternative to traditional deck blocks that provide the necessary strength and durability at up to 1/3 of the weight. "The Handi-Block product has experienced huge success and continues to be the cornerstone of Evolve's Evo-Crete operation across North America." said Evolve Composites newly appointed Director Of Sales—Home Improvement & Building Materials Steve Rizoti. "Handi-Blocks have proven to be a popular, multi-purpose foundation block for a range of home improvement projects and are an effective alternative to digging holes, mixing concrete and waiting for it to set before being able to complete a project. Furthermore our Evo-Crete technology provides all of the necessary strength at a significantly reduced weight."
The Evo-Block Garden Block is Evolve Composite's initial entry into the hardscape/landscape marketplace and introduces the Evo-Crete technology to that growing segment.
"We look forward to sharing the ins and outs of these innovative products and the opportunity that they present to the Do It Best members at this week's Spring Market in Indianapolis" added Rizoti.
"Evolve's Handi-Block and Evo-Block Garden Blocks are innovative building products that fit perfectly into our product offering and falls right in line with our history of solution-based products. We are excited to share this innovation with the Do It Best Members at the Spring Market in Indianapolis" adds Jim Daniels, Vice President of New Products for Parksite.
Evo-Crete is Fiber Reinforced Cellular Concrete, which creates a dynamic cellular
structure with fiber reinforcing to provide extreme strength and durability while being up to three times lighter than traditional aggregate based concrete. Other Evolve Composite products utilizing Evo-Crete technology include Evo-Crete & Evo-Lite HVAC Equipment pads, Evo-Crete Hurricane Pads, Evo-Crete Generator Pads and more.
Evolve Composites is a Columbia, Maryland based company with manufacturing plants in Maryland, Alabama and Florida along with national sales and marketing offices in Houston Texas and Charlotte, NC.
Parksite services the building industry as a wholesale distributor offering a wide range of exterior and interior building materials.
Do it Best Corp. proudly serves 4,000 member-owned locations in the United States and 50 countries and is the only U.S.-based full-line, full-service, member-owned distributor of lumber, hardware, and building materials products in the home improvement industry.