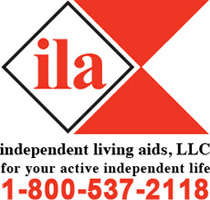 It will be a privilege to represent ILA at the 134th Annual PSSNY Convention & Expo in NY.
Jericho, NY (PRWEB) May 15, 2012
In their most recent issue of the CENTURY II publication, PSSNY announced Independent Living Aids as a preferred vendor to the organization.
Today, Irwin Schneidmill, President of Independent Living Aids expressed, "Participating with the PSSNY organization and its members is extremely gratifying. The more and more people my products reach, thoroughly extends my sense of accomplishment."
It has been over 34 years that Independent Living Aids, LLC (ILA) has been one of the leading companies helping people with vision or hearing impairments lead a more active independent life. Their combination of modern technology and old fashioned customer service is what distinguishes ILA as the go-to company for simple every day needs. From talking watches, to voice interactive alarm clocks, large button talking phones, to magnifiers, ILA continues to make a difference in people lives.
We are pleased to team up with PSSNY and its members in an effort to make our products more accessible and provide pharmacies in New York State the ability to deliver to their customers the added value of offering our products.
Our goal is keeping life magnified, amplified, simplified, and always in motion. Together we will continue to offer options to those in need.
Stated by Bernie Natt, "As a pharmacist for 44 years, I am excited to be part of this camaraderie; ILA will help to recognize and reward the faith of the consumer that patronizes the independent pharmacy, while allowing the pharmacist to better serve and preserve that customer's welfare. It will be a privilege to represent ILA at the 134th Annual PSSNY Convention & Expo in NY."
ILA is excited to debut some of their product line at the Annual Conference, where Bernie Natt, the PSSNY/ILA liaison will be available for discussion. Visit us there at the LaGuardia Marriott in Queens, NY, Sunday June 3.