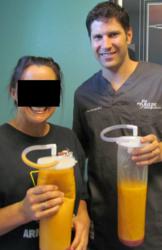 MyShape Lipo offers industry leading customer service and affordable liposuction.
Las Vegas, NV (PRWEB) May 16, 2012
"Moving America Forward" the national television show hosted by William Shatner recently featured MyShape Liposculpture Specialists, a high-end liposculpture specialty clinic in Las Vegas, Nevada. MyShape Lipo is known for their skill and artistry in liposuction surgery and their dedication to make this surgery available to patients at nearly one-third of the national average. As an expert in the art of body sculpting, Trevor Schmidt PA-C the liposuction specialist at MyShape Lipo has perfected the process and offers industry leading customer service at a price most consumers can afford. The nationally televised show which aired on Yootoo TV, the new television network launched by Mark Burnett the executive producer of five network television series including "The Apprentice" and "Shark Tank." The program attracted a significant amount of viewers who tuned in to hear how MyShape Lipo is helping thousands of people improve their shape and elevate their confidence through liposuction.
Interviewed in Los Angeles on the set of Moving America Forward, William Shatner and Doug Llewellyn of "People's Court," discussed the exciting growth of MyShape Lipo and their quest to reshape America through liposuction. Patients are flying in from around the world for the specialty liposuction services and top notch customer service of MyShape Lipo. Trevor Schmidt PA-C, the liposuction specialist and chief of surgery at MyShape Lipo has performed over 7000 liposuction procedures and mastered the skill of body contouring. With the use of a technique called the "tumescent liposuction technique," the procedure can safely be done in an office setting while the patient is awake. Gone are the days of risky surgeries under general anesthesia and costly hospital fees. The procedure is so effective, nearly 2 gallons of fat can be removed in as little as 1 1/2 hours.
In the past, the liposuction procedure was strictly performed under general anesthesia, which means the patient is put to sleep. This type of procedure must be done in a hospital setting and carries significantly higher risks of complications. With the use of the tumescent liposuction technique, the experts at MyShape Lipo are able to get smoother, more consistent results, minimal blood loss, and do all this in the comfort of an office setting. Their patients walk out of the office shortly after the procedure feeling great with their new shape. In fact, most of the patients at MyShape Lipo are able to return to work within 1-3 days. The results are permanent and the fat does not come back in the areas treated.
MyShape Lipo is conveniently located near the Las Vegas airport, which makes it easy for patients to fly in from around the world. They offer complimentary consultations which can be done over the phone after you email pictures. If you are unhappy with your body, liposuction at MyShape Lipo can give you back your sexy. For more information call 702-818-5476 or visit their website, http://www.myshapelipo.com