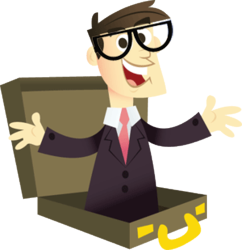 Its just easier when you have simple website maintenance plans to chose from instead of complicated hourly rates.
Miami Beach, FL (PRWEB) May 31, 2012
Whereas many website companies offer hourly rates and complicated fee structures that can often become confusing and can make payments difficult to track, Nerdy Website Maintenance offers flat fee plans. For a specific amount per month, individuals can have their website changes, link changes, content and image changes and more handled.
"It's really a no-brainer," says partner Robert Bustamante. "There are a ton of website maintenance companies out there that will offer maintenance by the hour or by the specific task. This can become difficult for website owners to keep track of, especially if they have several websites that require maintenance. It's just so much simpler for them to pay one flat fee monthly for the services they require, and to be sure they're receiving high quality help from professionals who know their stuff."
Nerdy Website Maintenance offers three different package choices to suit website owners. The basic plan costs less than $30 each month, while the standard and advanced packages run $49.99 a month and $99.99 a month. Each plan includes detailed reports so website owners can see precisely what actions were taken to care for their website and maintain their high-quality business platform. Some of the services included in the website maintenance plans include link checking, photo and content addition or changes, and video addition or changes.
Nerdy Website Maintenance is perfect for business owners who operate more than one website and simply don't have the time or expertise to maintain their websites themselves. Outsourcing website maintenance enables business owners to focus on more important things like growing and marketing their businesses. Those individuals can be secure in the fact that their websites are operating well and that links, videos, and all additional aspects of the websites are working correctly.
Not just for business owners, website maintenance plans are designed for non-profit organizations, informational websites, ecommerce sites and more. Anyone who owns a website that needs regular maintenance is a good candidate for Nerdy Website Maintenance. Individuals are invited to visit the website at http://www.website-maintenance.com to view pricing plans, samples of work and more.
About the Company
Nerdy Website Maintenance is owned and operated by Certatim, LLC. After having experienced difficulties with excellent website maintenance in the past, the owners decided to create a solution that would benefit consumers who wanted a simplified way to keep their websites maintained. Certatim, LLC was formed in 2009 and provides services such as E-signature solutions for busy professionals and online software solutions.