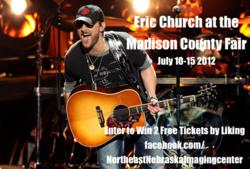 Norfolk, Nebraska (PRWEB) May 15, 2012
Northeast Nebraska Imaging Center announces their social media contest where the winners will receive two fun-passes to the sold out Madison County Fair and Eric Church concert on July 10, 2012.
People interested in entering to win simply "Like" the imaging center's Facebook page and comment on the wall that they want to be entered into the drawing. The winners will be selected at the beginning of July to attend the sold out performance.
About Northeast Nebraska Imaging
Northeast Nebraska Imaging Open MRI serves to offer the patients of Northeast Nebraska a diagnostic imaging facility that focuses on you, the patient. The facility has paired its attention to service with Open MRI technology, which is unique to the area, to create a premiere option for patients' radiology needs. Northeast Nebraska Imaging's ACR Accredited Facility & Board-Certified Radiologists are able to provide exceptional service while still offering the most comfortable patient environment available. Northeast Nebraska Imaging is located at 301 North 27th Street, Medical Offices North Building, Suite 15, Norfolk, Nebraska. Patients can experience priority scheduling, convenient location, radiology interpretation within 24 hours, images via CD & conventional films. Call Northeast Nebraska Imaging today at 402-844-8187 to check availability & to schedule with Norfolk's only Open MRI.