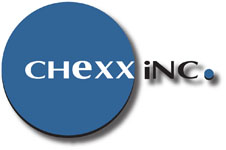 We wanted to spread the word that our outbound incentive payment services are ideal for medical market research companies that need to pay panelists around the world by international check, electronic payment or prepaid card
Vancouver, BC (PRWEB) May 14, 2012
Chexx Inc., a company that specializes in sending high volumes of survey and incentive payments to beneficiaries around the world, recently joined the Pharmaceutical Marketing Research Group (PMRG) to take advantage of the PMRG Annual Conference. "It was a great place to meet with several clients and to make new contacts" says Peter Sampson, VP of Corporate Development for Chexx Inc., "We wanted to spread the word that our outbound incentive payment services are ideal for medical market research companies that need to pay panelists around the world by international check, electronic payment or prepaid card".
As a member of many associations, Chexx Inc. was expecting to be welcomed with emails, and a cocktail reception or two, but they were ready to do some serious networking gymnastics to overcome their newcomer status within the tradeshow hall and at networking events. Instead, Chexx Inc. found a refreshingly different sort of association – one that teaches its members the value of networking, shuns cliques, and empowers every member with the ability to make things happen. And this approach is working. The Annual Conference wasn't a typical tradeshow scenario where companies set up on a tradeshow floor and passively wait for people to find them. Instead, PMRG members take the initiative - they proactively approach each other, hand outstretched.
PMRG purports to be a community where healthcare marketing researchers and suppliers can come together to learn and thrive. It aims to provide all members with access to cutting-edge information that supports professional development. It fosters the leadership skills necessary to translate functional excellence into pivotal roles in business decision-making and Initiate dialogues that provide networking opportunities and unstructured learning.
PMRG membership assists companies who want to keep a finger on the pulse of the pharmaceutical market research industry. "I'm already impressed by the open, supportive community and the willingness of other members to share information and insights related to the field", states Sampson, "This industry truly benefits from an interconnected community of market research professionals. Our membership simply enhances our ability to connect to this group, learn from others and share our expertise".
PMRG membership is available to individuals who are presently or were formerly an employee of a manufacturer of pharmaceutical, biotech, medical device or other healthcare products, marketing research companies that do marketing research for such manufacturers and vendors that provide related support services to any of the above. Annual membership dues are assessed by the Board of Directors. Opportunities also exist for members to volunteer to serve on a PMRG committee, speak at PMRG events, exhibit or attend the annual conference fair, access the searchable member database, and more.
About Chexx Inc.:
With full service offices in Europe and North America, Chexx Inc. serves the payment disbursement needs of market research companies, international payroll, sales organizations and affiliate marketing networks around the world. For over 17 years they have specialized in providing timely, convenient and cost-effective payouts with excellent results. Chexx Inc. maintains a large network of regional banks to provide payment coverage in over 100 countries. They focus considerable resources on technical integration and relationship management with each of their banking partners resulting in stable global coverage with built in redundancy in key regions. For more information, please visit http://www.chexxinc.com