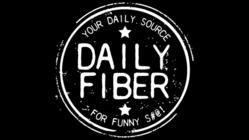 I listen to the bands my favorite bands recommend and I always find out who my Doctor's doctor is.
New York, NY / Chicago, IL (PRWEB) May 16, 2012
For comedy lovers, the urge to share a funny video is borderline uncontrollable. Imagine loving comedy videos so much you feel compelled to make your own. Now, add to that urge loving another comedian's work so much that you don't just share with friends, but introduce them to all your hard earned fans! So goes Daily Fiber Film's compulsory decision to introduce BigHeadPaul.com to their over 21,000 subscribers by featuring Paul Thomas' hilarious spit take inducing 33 second "Chicken Commercial".
"The quality of Paul's work caught our eye at the 2010 L.A. Comedy Shorts Film Festival and we struck up a friendship based on that appreciation", says Raymond McAnally of Daily Fiber Films. "We noticed Paul's work was getting lost in the sea of content online, so we decided to take a moment and introduce BigHeadPaul to our fans."
Daily Fiber Films is no stranger to the traffic power of introductions by channels with more subscribers. In the fall of 2010, they were featured by Maker Studio's TheStation2 and TotallySketch and went from 120 subs to over 4,000 in a week. In some regards this is simply the concept behind all sharing sites, however even that lacks a genuine stamp of approval. "For a viewer to know that a group they really love is endorsing someone, that has more potential to create a real viewer who will stick around", says McAnally. "I listen to the bands my favorite bands recommend and I always find out who my Doctor's doctor is".
Another prime example of Bromantic comedy friendship is collaboration. At the same festival in 2010, Daily Fiber became friends with chicago based Big Dog Eats Child. In just two years and across half the country, the groups have collaborated twice, "Douglas" and "Dick's Nuts", and plan to do many more. "It's more than just business, it's a creative energy kinda thing, and that resonates to the viewer and makes stronger content for everyone. We could isolate ourselves and be defensive about our viewership or we could keep building our community and not put a limit on where we could all go together," says McAnally.