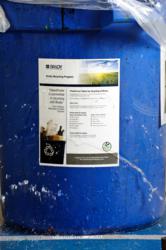 ToughJet sheets make it possible to create durable, professional-looking signs and labels using the office printers and software you already own
Milwaukee, Wis. (PRWEB) May 16, 2012
Brady recently launched ToughJet™ Durable Label Sheets for Inkjet Printers, an innovative new line of printable label sheets that can be used in harsh industrial work environments. These sheets are designed for standard inkjet printers, yet they are extremely durable and can withstand water, chemicals and abrasion without yellowing, fading or falling off.
"ToughJet sheets make it possible to create durable, professional-looking signs and labels using the office printers and software you already own," said Dana Ray, senior product manager for Brady materials. "It's a reliable and economical solution for those facilities that might not have the budget to purchase industrial label makers or high-priced labeling equipment."
According to Ray, ToughJet™ sheets are as durable as Brady's top-selling thermal heat transfer label materials. They have excellent chemical, abrasion and moisture resistance, and therefore do not need to be laminated or placed inside protective pockets. Unlike most paper products, these sheets won't fade, tear or yellow when used indoors.
ToughJet sheets also feature self-adhesive backing, which eliminates the need for document holders, hooks or hanging devices. Customers can simply print, peel off the label, and apply it to their desired location: the sheets will stick to a variety of surfaces, including metal, glass, plastic, cement and wood.
Available in full-sized and die-cut label sheets, ToughJet™ Durable Adhesive Sheets are ideal for lean, safety and general employee communications. They offer high quality color matching and photo reproduction capabilities, enabling customers to print letter-sized labels, signs and procedures with crisp, multi-color graphics and photographs.
For less harsh environments, ToughJet sheets can also be used with laser printers. They are ideal for creating safety signs, procedures, warning labels, lean manufacturing visuals, and other internal employee communications.
For more information:
To learn more about ToughJet™ Durable Adhesive Sheets, or to request a free trial kit, visit http://www.BradyID.com/toughjet.
To learn more about Brady's complete line of products and offers, visit http://www.BradyID.com. In Canada visit http://www.BradyCanada.ca.
About Brady Corporation:
Brady Corporation (NYSE: BRC) is an international manufacturer and marketer of complete solutions that identify and protect premises, products and people. Its products include high-performance labels and signs, safety devices, printing systems and software, and precision die-cut materials. Founded in 1914, the company has millions of customers in electronics, telecommunications, manufacturing, electrical, construction, education, medical and a variety of other industries. Brady is headquartered in Milwaukee and employs 6,600 people at operations in the Americas, Europe and Asia/Pacific. Brady's fiscal 2011 sales were approximately $1.3 billion. More information about Brady Corporation is available at http://www.BradyCorp.com.
# # #