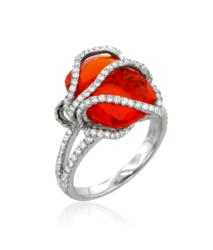 The Lyra Collection celebrates the colors and mystery of the cosmos that are reflected in the gemstones we find on our planet.
San Francisco, CA (PRWEB) May 15, 2012
Award-winning fine jewelry design house Yael Designs debuts summer 2012 Lyra Collection that showcases the beauty of natural gemstones wrapped in elegant diamond threads set in 18K white and rose gold.
Inspired by cosmic beauty and blooming with colorful tourmalines, morganites, rubellites and opals, Lyra makes a bold statement of opulence featuring earrings, cocktail rings and pendants.
"The colors and mystery of the cosmos are reflected in the gemstones we find in the depths of our planet," said Yael Designs' CEO Yehouda Saketkhou. "That is why we named this new collection after Lyra, a small constellation featuring one of the sky's brightest stars."
Many of the pieces in Lyra are set with custom-made narrow threads of diamonds that overlay the gemstones in the center, a difficult and unique technological feat that took Yael Designs years to perfect. To help select the best pieces for this collection, the jewelry designers worked closely with the brand's fans to garner feedback and perfect the pieces.
"This is an exciting time to be in design because social media allows us to interact directly with our fans and learn their opinions before the pieces are even cast," said Yael Designs marketing director Stefan Patashvili. "Having received great feedback from our fans, it is no surprise the Lyra Collection is enjoying such great attention from our retailer customers."
Although making its first full appearance at JCK Las Vegas 2012, the Lyra Collection has already received rave reviews for the singular beauty of its designs from retailers, fashion editors and celebrities alike. Two fire opal rings from the collection have already garnered the prestigious 2012 AGTA Spectrum and 2012 JCK Jewelers' Choice awards. Pieces from the collection have been spotted on iceskating champion Kristi Yamaguchi and actress Kerry Washington.
The price for Lyra Collection starts at $4,200.