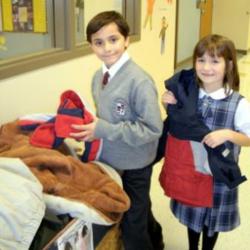 It's beautiful to see the way the students have grown and matured through the various service projects. There's an inner desire to serve, and a real sense of responsibility that blossoms in them.
Lemont, Illinois (PRWEB) May 15, 2012
Everest Academy in Lemont, an independent Roman Catholic school in Lemont, helps its students develop a 'heart for service' by offering a robust program of community outreach projects.
The extensive outreach program at Everest complements the rigorous academic curriculum, helping the school achieve its goal of a well-rounded education for leadership. Each grade at Everest, including the preschool, takes on an age-appropriate service-related project during the course of the academic year. These so-called "apostolic projects," named for the Catholic term "apostolic" which signifies helping others out of love for God, help awaken in the students a sense of social responsibility and a desire to help those in situations of suffering or injustice.
This year the projects taken on by each grade included outreach to the needy or lonely of the community for the middle school students (grades 5 – 8), while the lower school (K – 4) took on projects to show appreciation to those in our community who dedicate their lives to serve and protect others both locally and abroad. The middle school's outreach projects included visiting the elderly residents at Alvernia Manor, a retirement community in Lemont; Zacchaeus House, a not-for-profit home for disadvantaged men in Chicago; and "Feed My Starving Children," an international non-profit Christian organization with a shelter in Aurora that offers free meals to those in need. The lower school took on projects such as adopting the Lemont police officers, fire-fighters, service men and women, and veterans, and sending cards and treats to show gratitude for their service. The Kindergarten is currently collecting toys and books for the new Children's Memorial hospital, the Ann & Robert H. Lurie Hospital of Chicago, to open in June 2012.
"The students work on these service projects throughout the year, and there are other projects as well that the entire school takes part in," says Ms. Molly Maher, Dean of Students at Everest Academy, who helps coordinate the apostolic projects at Everest. For example, the Change 4 Change program collects money each month that the students send to needy children in Mexico, to help fund their education.
"It's beautiful to see the way the students have grown and matured through the various service projects" says Mrs. Rose Thomas of Woodridge, whose daughter Libby has attended Everest since preschool and will graduate from the 8th grade this month. "There's an inner desire to serve, and a real sense of responsibility that blossoms in them." Besides the projects that she has undertaken at Everest, Libby Thomas is one of many students who take the responsibility of service to those in need beyond school hours. For the last three years she has chosen to hold her birthday celebration at "Feed My Starving Children" in Aurora, where she and her friends help serve meals to the needy.
Another student, Mia Wiggins, had a great idea for her sixth birthday this spring. Instead of traditional birthday presents, she asked her guests to provide cash donations for the homeless, and contributed her gifts and other toys to the Catholic Charities of Chicago office because of their work with the homeless and needy of the community. The Catholic Charities of Chicago southwest office, located in Worth, offers comprehensive services to the needy and disadvantaged in the area, including food, counseling, employment services, and housing. Mr. Jeff Simms, regional director for Catholic Charities of Chicago, confirmed that Mia's donation of money, food, and toys went to St. Blase parish in Summit, which offers a food pantry, evening meal, childcare, and other services to those in need. At six years old, "Mia was definitely our youngest donor yet," said Mr. Simms.
Everest Academy gives great importance to making students aware of social realities and of their call to respond in service out of love, and strives to awaken in students a sense of social responsibility that will continue to grow throughout their lives. The success of the program can be seen in the response of the students. All of the students in the 8th grade graduating class say that they will continue to take on leadership roles in service work after leaving Everest.
Everest Academy is an independent Roman Catholic school in Lemont educating children from preschool through eighth grade. The teachers and staff are dedicated to forming the whole child by providing the highest level of academics, by building strong character, and by preparing generous leaders ready to serve the community. If you would like to learn more about Everest Academy's approach to education, please contact Heidi Matelich at 630-243-1995 or visit http://www.everestadvantage.org.