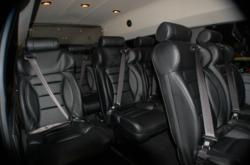 Kailua Kona & Maui, HI (PRWEB) May 16, 2012
Kailua Kona & Maui, Hawaii is a long way from National Van Builders' production facility in Attleboro, MA but that didn't stop Michael Duda, President of Gold Coast Town Car Services from saying aloha to The Executive Series EX9PL. The maiden voyage was arranged shortly after Michael's first impressions were confirmed at the recent International LCT Show in Las Vegas.
Hawaii is like no other place on earth so it only seemed right for Gold Coast to offer its clients a van unlike anything else on the islands. Since no one drives to Hawaii, air or sea visitors need transportation upon their arrival and for the length of their stay. The EX9PL offers town car comfort and center aisle convenience with luxury seating for 9 passengers and their luggage and/ or golf bags. Gold Coast realized quickly that the NVB Executive Series is the perfect vehicle for small group excursions and golf outings, as well as airport transfers and hotel contracts.
The NVB EXECUTIVE SERIES - EVERYTHING YOU NEED AND YOUR CLIENTS EXPECT-FOR LESS- not just a slogan!
For more information on the Executive Series by National Van Builders, please call 800 527 7477 or visit http://www.executivevans.com.