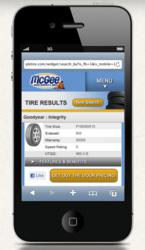 The launch of our new mobile tire search and catalog is a huge success for TCS, tire dealers and buyers everywhere.
Cookeville, TN (PRWEB) May 14, 2012
TCS Technologies, regarded as a leading software and web applications provider for the tire and automotive industry, has launched several new features to its already implemented mobile tire dealer websites. The highlight of this launch is a mobile tire and wheel search by vehicle, size or brand feature. The new mobile tire search platform allows on-the-go consumers to research and shop tires and wheels in a mobile friendly platform offering accessibility to a dealer's products and information in real-time from their website.
"The launch of our new mobile tire search and catalog is a huge success for TCS, tire dealers and buyers everywhere," states Marek Cerny, TCS Director of Retail Web Applications "One of the top three reasons consumers come to a tire dealer website is to research tires and wheels. If they are coming from a mobile device, it is a necessity to provide the information they are looking for in a mobile friendly way. The ability to locate dealer inventory, browse available tires and wheels and see a price or request a quote from a mobile device is invaluable. A comprehensive catalog displaying a dealer's product availability that fits in your pocket can save time and ultimately shape the success of your product. "
The announcement includes a family of features aimed to radically accelerate connecting the consumer to the dealer in a mobile friendly environment. New mobile features available with TCS tire dealer websites include:
· Search for tires by vehicle, size or brand
· Tire results pages pull data live from the dealer's website and highlight tire specs, features and benefits of the tire, a picture of the tire, pricing if the dealer chooses or a Request a Quote option which sends the dealer an email including consumer contact information, vehicle and the specific tire in which the consumer is requesting more information
· Search for a Dealer's Location by entering an address or zip code or allowing the site to access to the user's GPS location
· Live coupon and promotions feed from the website
"We know our consumers are using mobile devices to both research our products and services and connect with us. We receive around 25% of our website traffic from visitors on a mobile device however only 6% of our leads come from mobile. With the addition of our mobile tire search and catalog, we anticipate a considerable increase in the amount of leads we are receiving from our website – particularly from our mobile visitors," stated Kevin McGee, McGee Tire District Manager. "It is important to us to provide the best resources for our consumers to access McGee Tire, our products and services. We compete against several national chains and our mobile site now gives a mobile tire shopping experience superior to my competition."
This launch is a second phase of mobile releases TCS has unveiled. "We will continue to invest in the development of our mobile products and services to create progressive solutions that connect consumer to retailer; ultimately selling more products and services. Now more than ever, technology plays a vital role in a dealer's success. Our customers have solutions that not only connect consumers with the retailer but connect them in ways that stick," remarked Kenny Pratt, Vice-President of Technology for TCS. To access one of the TCS mobile optimized sites, visit http://www.mcgeetire.com from a smartphone or tablet. Interested dealers should contact TCS at their website http://www.tcstire.com or 888-449-8473.
About TCS Technologies:
Tire Company Solutions, a Microsoft Certified Partner, develops and markets both off-the-shelf and custom tire software solutions, web applications, ecommerce platforms, and support and consulting services to tire companies across the US and Canada. TCS has built a product base which continues to prove itself as a revenue increasing, business streamlining asset to any size tire business. TCS has tools unmatched in the industry, and customization within each of its products to cater to the way tire dealers and retreaders do business. TCS's home office is located outside Nashville, TN with a second location in Salt Lake City, UT. Optionally, read about the TCS facebook application for finding tires online.
CONTACT:
TCS Technologies
888-449-8473
sales(at)tcstire(dot)com
http://www.tcstire.com
Like Us on Facebook | Follow Us on Twitter