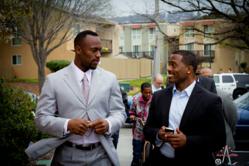 Atlanta, Georgia (PRWEB) May 16, 2012
NFL star player Vernon Davis and Modern Class Design (MCD), the interior design company founded by Davis and business partner Antone Barnes, has partnered with the Museum of Design Atlanta (MODA) to host a fundraising event featuring art, fashion and design on Saturday, June 9, 2012. The event will take place at MODA at 1315 Peach Street NE in Atlanta. Tickets are $50 dollars for general admission and $75 dollars for VIP.
Proceeds from the event will help fund the attendance of inner city students at the art focused Camp MODA. Emerging designers from local Atlanta high schools and colleges such as Savannah College of Art and Design and the Portfolio School will be in attendance participating in MCD's Interior Design Competition. Talented designers will be awarded cash prizes and/or internships with Vernon Davis' Modern Class Design.
Vernon Davis believes inner-city students growing up in tough neighborhoods like his in Washington, D.C., will gain self-esteem through this program which encourages critical and creative thinking. "I was always interested in art as a kid, but never felt free to pursue it because in my neighborhood you either went in a direction of sports or you got into drug dealing, but definitely not art," Davis explains. "But it shouldn't be that way, which is why I'm encouraging kids to pursue art or whatever their dreams are."
For more information or an application for the competition, visit http://www.modernclassdesign.com. Completed applications should be forwarded to TPalmer(at)creativeedgepr.com by Tuesday May 29th.
ABOUT MUSEUM OF DESIGN ATLANTA
MODA regularly features exhibitions on architecture, industrial and product design, interiors and furniture, graphics, and fashion. Camp MODA provides students who have an interest in art with the ability to examine the impact of design on their daily lives.
ABOUT MODERN CLASS DESIGN
Founded by Vernon Davis, two-time team captain and Pro-Bowler for the San Francisco 49ers, and his partner veteran music executive Antone Barnes, MODERN CLASS DESIGN (MCD) is a full-service interior design company. Vernon Davis and Antone Barnes both grew up in tough inner city neighborhoods where they were surrounded by urban blight and have committed MCD to spearheading community revitalization projects. MCD is a quality-based service provider of interior and exterior design as well as automotive design. The company offers high quality service at affordable prices.
CONTACT: Theodore Palmer, Creative Edge PR, Event Publicist
(646) 575-2967; TPalmer(at)creativeedgepr.com