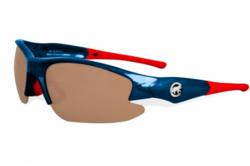 Chicago, IL (PRWEB) May 15, 2012
Chicago will be looking a little bit brighter this weekend, at least through the eyes of those fans trying on MAXX HD® Chicago Cubs® Logo sunglasses. This event will be Maxx HD® Sunglasses first ever Demo Day at Wrigley Field™.
Maxx HD® Sunglasses the preferred sunglasses of the Chicago Cubs® and the preferred sunglasses of Wrigley Field™ will be hosting a Demo Day at Wrigley Field on Friday May 18th and Saturday May 19th in front of Captain Morgan's Club at Wrigley Field™, when the Chicago Cubs® face the Chicago White Sox®.
"Demo Days are always full of excitement, it is a chance for fans to learn about our brand and grab some free swag", Chana Kolman Public Relations & Promotions Director for Maxx HD®. "Chicago fans can try on a whole range of brand new Maxx High Definition sunglasses with no pressure of purchase. However, we will be offering discounts for fans to purchase our shades at the Wrigley Field™ dugout stores in stadium".
Maxx HD® Sunglasses entered into a licensing agreement with Major League Baseball (MLB®) last fall and has their sunglasses available for all 30 MLB clubs.