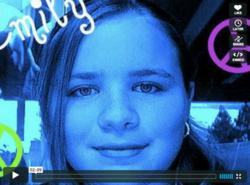 San Diego, CA (PRWEB) May 15, 2012
Time is running out for youth to participate in Natural High's 3rd annual national Natural High Contest and the rewards extend far beyond the Go Pro HD camera and thousands of dollars offered in contest prizes.
When 13 year-old Taylor Janovicz from Virginia entered the contest last Spring, she thought about how badly drugs hurt people and how important it was to have a Natural High, which, for her was her friends. "When I'm with my friends, I'm happy and feel like I can be myself and no one will judge. We all encourage each other and make sure we stay on the right track," she shared as part of her submission.
What Taylor didn't realize, however, was how much her message would ripple out to her local community and impact thousands across the U.S. when her poster won first place in the contest. "When I entered the contest, I had already made the decision to be drug-free, but after my peers and other friends heard I won the contest, they started to think about it too. Now my teachers have been trying to help my fellow classmates find a Natural High," Taylor shared after she learned she was a winner.
Taylor was among hundreds of youth who entered the contest last year. Other winners included 17-year-old Sam Cook, who was recognized for getting naturally high from cooking deliciously scrumptious meals, 13 year-old Emily Grether, who described playing 12 different instruments as "harmonious bliss", and Pau Vilchez, who gets a rush from swimming.
Natural High is, once again, calling students like Taylor, Sam, Emily and Pau to take a stand for living drug-free and naturally high by sharing their story through the Natural High contest. The contest ends on May 31st and is open to youth between the ages of 10-18. Entries can be submitted in video, poster or writing format and youth must answer several questions found on http://www.naturalhigh.org/contest related to their natural high. Six students will be awarded $250 Natural High cash grants, with one of those lucky students being chosen as a grand prize winner, winning an additional cash prize and a HD Go Pro Camera.
The goal is to have hundreds of teens participate in this contest as a way to not only reflect on their Natural High-what they love to do and what makes them feel good inside and does not involved drugs, but to also have them do so publicly and proudly, creating a "positive peer pressure" that inspires other teens who want to make the right choice but feel alone in their decision.
It is no secret that drug abuse is a problem and that youth are the most vulnerable as they struggle to form their identities, while being bombarded with mixed messages about drugs and alcohol from the media, celebrities and peers. Although teens often believe that most of their peers are drinking or doing drugs, according to the Monitoring the Future survey, the real truth is that most teens are not using drugs, and actually disapprove of them. The goal of this contest is to not only get teens to share their Natural Highs for a chance to win but to also enlist them to help share the truth with other teens through their entries. In creating a positive peer pressure, youth have the ability to change culture and make it much cooler to get high naturally rather than from any artificial substance.
For more than 15 years, Natural High, a national nonprofit organization has enlisted the help of drug-free celebrities and youth messengers to produce and distribute free drug prevention and character development educational programs and tools that inspire youth to say Yes to a Natural High and No to drugs. For more information about Natural High or the Natural High Contest, please visit: http://www.naturalhigh.org/contest.