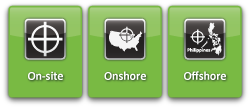 We continue to increase relevance and value to our customers, while providing more exciting opportunities for Magenic and Rivereo team members
MINNEAPOLIS, MN (PRWEB) May 16, 2012
Magenic —a custom software development consulting firm that specializes in creating Enterprise Customer Software-based solutions—today announced that it has merged Manila-based Rivereo into the Magenic company.
"I am very pleased with the merger of the Magenic and Rivereo families," said Paul Fridman, President of Magenic. "We continue to increase relevance and value to our customers, while providing more exciting opportunities for Magenic and Rivereo team members".
Magenic Manila/Rivereo provides innovative offshore development and business solutions for Enterprises & Independent Software Companies through a Dedicated Development Team (DDT) business model. The DDT gives clients control and cost savings of running their own offshore development center without being distracted from their core business.
"As part of Magenic, Magenic Manila/Rivereo will be able to offer a wider range of custom application development solutions, drawing on the expertise of Magenic's team of 300+ US-based architects and consultants." – Gary Cooper, Founder of Rivereo and President of Magenic Manila/Rivereo.
About Magenic
Magenic is a privately held Custom Software Development company that was founded in 1995 and is based in Minneapolis, MN. Magenic is a recognized authority in building software applications using the Microsoft software development platform to the Fortune 2000 companies. Our CTO, Rockford Lhotka, is the creator of the popular CSLA .NET software development framework and is considered a thought leader in software architecture, design, and development.
More information about the company and its services is available at http://magenic.com or you can call 877-453-1501.
About Rivereo
Rivereo's management team has decades of experience in the software industry. Market realities require the most pragmatic solution to satisfy needs. In the highly competitive world of outsourcing, Rivereo is focused on improving the quality of the deliverables and the approach taken with clients. Being in the Philippines provides a great location with a high degree of cultural compatibility.