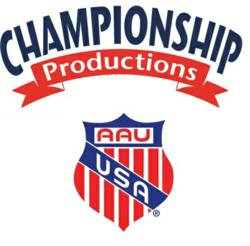 Ames, IA (PRWEB) May 18, 2012
Ames, Iowa-based Championship Productions has announced an agreement with the Amateur Athletic Union (AAU) to produce educational programming for athletes and coaches and to offer additional learning opportunities through video instruction, online streaming, newsletters and clinics.
Darryl Bennett, Vice President of Championship Productions, said of the agreement: "To align with the world's leading amateur athletics organization is a terrific opportunity for us. We look forward to developing an array of outstanding educational resources to help athletes and coaches achieve success and realize their fullest potential."
Championship Productions, founded in 1976, is the world leader in coaching and athlete-oriented sports instruction in over twenty different sports. Championship Productions produces instructional video programming featuring the world's most renowned coaches, and athletes. Among Championship Productions' more than 500 instructors are Mike Krzyzewski, Bob Knight, John Calipari, Dan Gable (15-time NCAA Wrestling Champions), Cindy Timchal (8-time NCAA Lacrosse Champions), Al Scates (19-time NCAA Volleyball Champions), Derrick Rose (2011 NBA Most Valuable Player) and Alex Rodriguez (3-time American League Most Valuable Player).
Websites: ChampionshipProductions.com and BasketballCoach.com
About the AAU
The Amateur Athletic Union (AAU) is one of the largest, non-profit, volunteer, sports organizations in the United States. A multi-sport organization, the AAU is dedicated exclusively to the promotion and development of amateur sports and physical fitness programs. The AAU was founded in 1888 to establish standards and uniformity in amateur sport. During its early years, the AAU served as a leader in international sports representing the U.S. in the international sports federations. The AAU worked closely with the Olympic movement to prepare athletes for the Olympic Games. After the Amateur Sports Act of 1978, the AAU has focused its efforts into providing sports programs for all participants of all ages beginning at the grass roots level. The philosophy of "Sports for All, Forever," is shared by over 500,000 participants and over 80,000 volunteers. The AAU is divided into 56 distinct Districts. These Districts annually sanction more than 34 sports programs, 250 national championships, and over 30,000 age division events.
Websites: AAUSports.org and AAUBoysBasketball.org