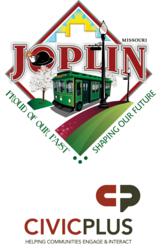 We will go live with the new website a few days before on May 18th.
Manhattan, Kan. (PRWEB) May 14, 2012
More than two dozen programmers, content specialists, designers and city officials from CivicPlus and the City of Joplin have worked tirelessly since the late April Hackathon to rebuild the City's website. Driven by the goal to launch the site by May 18th, four days before the "Day of Unity" which will commemorate the one-year anniversary of the EF-5 tornado that ravaged the city, the project team has already logged nearly 1,000 hours.
"Their cohesive efforts are compressing a project that normally would take four -to -six months into less than three weeks," said Michael Ashford, CivicPlus community engagement evangelist. "It's another example of the 'Miracle of the Human Spirit' that 135,000 volunteers have shown as we each do our part to rebuild Joplin."
Hackathon Judge and GovLoop.com Founder Steve Ressler blogged about the lessons of "hacking for good" that came out of the Joplin Hackathon. "The impact of hackathons can be huge," Ressler wrote. "Building technology infrastructure that helps the city is just as an important volunteer task as handing out food or rebuilding homes. A modern communication infrastructure isn't just nice to have, but essential."
The new site will include features to increase community engagement and enhance emergency management. The City of Joplin will utilize CivicPlus Emergency Alerts and Alert Center Modules, which provide an alert bar at the top of each website page to inform residents of active emergencies, as well as a permanent section on the homepage to notify citizens of information pertaining to an active alert.
Joplin residents also will be able to sign up to receive a wide variety of non-emergency alerts and updates from the City via text or email including project bid opportunities, job postings, calendar and news items.
Ashford said another feature, Citizen Request Tracker, will facilitate two-way communication between the City and its residents. "Citizen Request Tracker gives residents a convenient way to alert the City of any issues or concerns," he said. "Whether reporting streetlight outages, potholes or neighborhood issues, once an account is created, this interactive feature will offer residents easy access to the city official assigned to handle that particular topic."
In addition, a "Joplin's Voice" button will give residents an open forum for dialogue on topics that matter to them. Ideas and opinions can be voted up or down, and the City has a chance to enact ideas based on feedback.
"So much is being done in so little time," said City of Joplin Information Systems Director Mark Morris. "All eyes will be on Joplin on May 22nd for the anniversary of the EF5 tornado. We will go live with the new website a few days before on May 18th. We've been maintaining seven separate websites housing all this content... and now, we'll be able to house it all within one website and empower various departments to manage their respective areas even better than before. It gives me hope."
About CivicPlus
Based in Manhattan, KS, CivicPlus has designed more than 1,100 local government websites serving 43 million citizens throughout North America. A recipient of the Center for Digital Government's Best Fit Integrator Award for delivering extraordinary digital solutions to public IT projects, CivicPlus transforms municipal websites into powerful two-way communication platforms that let citizens talk to and participate in local government. The digital community engagement scale is a free online evaluation tool developed by CivicPlus to help local government measure the effectiveness of their website. In 2012, CivicPlus will invest more than $2 million in products, research and development. The innovative CivicPlus Government Content Management System™ now offers more than 60 applications including Community Voice, Citizen Request Tracker™, MuniMobile™, Facebook and economic development tools. Founded in 2001, CivicPlus was selected by Inc. Magazine as "One of the Fastest-Growing Privately Held Companies in the U.S." in 2011. For more information visit civicplus.com.
###