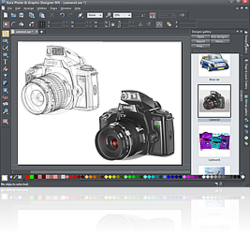 "The Adobe approach of selling separate, expensive programs to perform the common creative editing operations is fundamentally wrong in our opinion." says Managing Director, Charles Moir
(PRWEB) May 16, 2012
Xara today announced the availability of their new version 8 Designer products - Xara Photo & Graphic Designer MX (v8) and Xara Designer Pro X (v8).
Both products are super-fast, easy-to-use single integrated programs that provide all the tools for a range of graphic design tasks that would normally require three or more separate 'suite' programs; iIllustration, photo editing, advanced page layout, web graphics and animations – and in the case of Designer Pro building complete websites and online presentations.
Xara Photo & Graphic Designer MX and Xara Designer Pro X are the world's highest performing graphics software titles, with their speed enabling more complex and realistic graphics to be created more easily and in less time.
Xara Photo & Graphic Designer MX is ideal for any graphics enthusiast, small company or academic user that requires the best value general purpose photo and graphics design tool.
Xara Designer Pro X is the flagship of the Xara product line, the ultimate all-in-one creative tool.. As well as the website design features, it provides tools that might typically be required by professional designers such as PANTONE®, CMYK, color separations and PDF/X. It also supports multiple processors for even faster performance.
New features in Xara Photo & Graphic Designer MX and Xara Designer Pro X include:

Powerful Color Erase /Selection to enhance (change color, adjust brightness, blur, etc) or make parts of photos transparent based on the selected color.
Photo hue adjustment to change the color tint of any part of a photo.
An innovative new Shape Erase Tool that can perform both vector erasing or path adjustment, as well as 'soft mask' painting to perform detailed soft-edged erasing of vector, text and photo objects.
A new Text Styles feature that offers an efficient and powerful way of controlling the global appearance of text. Generates CSS compatible styles.
New Inline Graphics for embedding symbols and icons into text.
Many new Template Designs including a selection of modern new print templates, such as greeting cards, brochures, business cards, CD covers and certificates, plus many new categorised clipart designs.
Many other Photo Tool improvements and additions including the integrated Panorama stitching tool, a more efficient 'Optimize all images' function and ability to optimize images upon upload.
Media Exchange. All titles in the MAGIX/Xara range can share media files with each other and with some important third party services such as Flickr and Facebook.
In addition to the above features Xara Designer Pro X includes:

A Shape Builder Tool to 'paint' onto an existing shape to enlarge it, add new areas or adjust the shape or outline. This compliments the new Erase Tool to provide two basic new shape editing tools, that are entirely vector in nature (resolution independent, fully editable) that can edit vector outlines of shapes, or provide soft air-brush like painting and erasing.
Smart object positioning and page resizing which automatically adjusts the size of a web page and position of objects as you enter more text
Embedded fonts – website creators are no longer limited to a small list of websafe fonts, but can use just about any font (assuming the font allows website embedding).
New resizable JavaScript Widgets, such a smooth photo slideshows and an interactive Chart Widget for embedding high quality charts into documents or websites.
MP3 player widget - just drop an MP3 audio file onto the page, and this will embed a fully cross-platform compatible audio player (including iOS for iPad and iPhone) into your website. This joins the existing MP4 player that does the same for MP4 video files.
Create numbered lists and graphical bullet points - using Xara's vector graphics capabilities you can now design your own graphics for use in numbered and bulleted lists.
Managing Director, Charles Moir says "The Adobe approach of selling separate, expensive programs to perform the common creative editing operations is fundamentally wrong in our opinion. Modern documents (whether printed, PDF or web document) should not need separate tools to edit the text, the graphics or the photos. This is not just a costly process, in time and money, but totally inefficient. Xara's approach offers not just dramatically better value, but we believe it makes the software considerably faster and easier to understand and learn"
Xara Photo & Graphic Designer MX 8 costs just $89
Xara Designer Pro X 8 costs just $299
Upgrades from v7 to Xara Photo & Graphic Designer MX 8 cost $45
Upgrades to Xara Designer Pro X 8 cost $99
It operates on Windows XP/Vista/7
EDITORS' NOTES
More information and downloads
Please see the press center at http://www.xara.com/presscenter/designer
This includes press materials, graphics, screenshots, product information and a full list of new features.
Contact:
For more details or a serial number to unlock the trial version please contact: Nova Fisher, nova@xara.com Tel: +44 1442 351035
About Xara Group Ltd
Xara has been developing cutting edge software in the UK since 1981 making it one of the very earliest European software houses. Xara has developed a wide range of products covering the whole realm of publishing and graphics software. Xara Designer remains the world's fastest, and many believe, the world's best drawing and illustration software.
Xara has a particularly strong technology and innovation history. It pioneered many of the graphics technologies and techniques now standard in the industry today such as anti-aliased vector graphics, vector transparency, object feathering, etc. Many of its user interface techniques have been adopted by the industry.
In January, 2007, Xara Ltd was acquired by Magix AG from Berlin, Germany. The company now operates as a wholly owned subsidiary
About MAGIX AG
MAGIX is a leading international provider of high-quality software, online services and digital contents for multimedia communications. Since 1993, MAGIX has been developing leading technologies for creation, editing, management and presentation of photos and graphics, videos and music. Internationally, MAGIX operates from branches in the USA, Canada, the UK, Germany, France, Italy, Spain and the Netherlands. The product range is targeted towards laymen and professionals alike and goes beyond the PC range to include seamlessly integrated online and mobile applications.
According to its retail sales figures, MAGIX leads in the multimedia software sector in the most important European markets, and is one of the most successful competitors in the USA. Fifteen years of market presence as well as one thousand awards worldwide testify to the company's power of innovation.